Possible brain hormone may unlock mystery of hibernation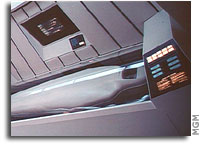 The discovery of a possible hibernation hormone in the brain may unlock the mystery behind the dormant state, researchers reported in the April 7, 2006 issue of Cell. Hibernation allows animals from bears to rodents to survive unscathed–in a state of suspended animation–under the harshest of winter conditions.
If the findings in chipmunks are confirmed, the hormone would represent the first essential brain signal governing the seasonal adaptation, according to the researchers.
As hibernation factors endow animals with an incredible ability to cope under otherwise lethal conditions–ratcheting down their metabolic rate to survive on limited energy reserves and withstanding extreme cardiovascular and oxygen stresses–the candidate hormone might also pave the way toward clinical therapies that lend humans the same kind of protection, they added.
The researchers earlier found that concentrations of "hibernation-specific protein" complex (HPc) decline in the blood of hibernating chipmunks. The team now reports evidence that the level of HPc in the brain increases at the onset of hibernation independently of changes in body temperature. Moreover, treatments that block HP activity in the animals' brains cuts hibernation short.
"One of the most curious biological phenomena in mammals is their ability to hibernate circannually, which allows them to survive unusually low body temperatures at or near freezing," said study author Noriaki Kondo of Mitsubishi Kagaku Institute of Life Sciences in Japan. Scientists have attempted for decades to identify substances responsible for hibernation in the blood and organs of hibernating animals but have met with little success, the researchers said.
"Although the functions of HP remain to be clarified, the current observations lead us to propose the involvement of the protein complex in the regulation of energy metabolism and/or biological defenses during hibernation–crucial events for adapting to the severe physiological state," Kondo said.
In the current study, the researchers first demonstrated that hibernation in chipmunks is strictly controlled by an individual's internal circannual rhythm even under conditions of constant cold. In 20 hibernators examined throughout their lives, concentrations of HPc in the blood started to decrease prior to hibernation and remained low throughout the inactive state. Hibernation ended after blood HPc levels rose.
Further study revealed an inverse relationship between HPc levels in the blood and brain. While HPc levels dipped in blood, the putative hormone rose dramatically in cerebral spinal fluid, they reported. Likewise, HPc levels decreased abruptly in spinal fluid when hibernation terminated.
The researchers also found that blocking the activity of one of the HP complex proteins in the brain with antibody greatly decreased the hibernation time during which the chipmunks maintained a lowered body temperature, suggesting its critical role in the brain's capacity for dormancy.
The researchers propose that HPc in the blood is actively transported into the spinal fluid in response to the animals' natural rhythm. The hibernation complex might also play a role in the seasonal behavior changes of animal species that do not hibernate, the researchers suggested.
For example, the complex could moderate physiological events such as reproduction in seasonally breeding mammals and migration in birds, they said. Even humans can maintain seasonal rhythms as exhibited by seasonal affective disorder, a recurrent depression characterized by increased sleep, overeating, and weight gain–behaviors similar to those seen in hibernators, Kondo noted.
"Hibernation is an extreme response to a seasonal environment, yet we knew almost nothing about how it is timed, nor how vital cellular functions are sustained in the face of plummeting body temperature," wrote Michael Hastings in a preview. The researchers now "identify a liver-derived protein complex as an essential coordinator of this adaptation to the depredations of winter."
"The finding has more than passing biological interest because understanding how tissues cope with the cardiovascular and oxidative stresses associated with hibernation or torpor may have direct clinical relevance," he added.
For example, he wrote, such a protective program might be exploited in transplant and vascular surgery. Scientists have suggested that hibernation therapy might effectively preserve donor organs for weeks or months.
Hibernation has also been found to protect animals from a wide range of potential threats, from muscle disuse to cancer, the study authors said. Therefore, hibernation therapy might confer protective effects in other clinical arenas as well.
The new findings could lead to "potential pharmacological applications in humans to the prevention of lethal diseases, such as hypothermia, ischemia, muscle atrophy, bacterial infection, and tumorigenesis, which has been observed during hibernation in hibernators," the researchers said.
"These studies may further stimulate the exploration of new techniques for cryosurgery of the heart and brain, as well as the development of hypothermia treatment that is effective for preventing brain ischemic damage." In cryosurgery, physicians use extreme cold to destroy abnormal tissue, such as cancerous tumors.
Noriaki Kondo of Kanagawa Academy of Science and Technology (KAST) in Machida, Tokyo; Tsuneo Sekijima of Kanagawa Academy of Science and Technology (KAST) in Machida, Tokyo and Niigata University in Niigata, Japan; Jun Kondo of Kanagawa Academy of Science and Technology (KAST) in Machida, Tokyo and Mitsubishi-Tokyo Pharmaceuticals Inc. Yokohama Research Center, Kanagawa, Japan; Nobuhiko Takamatsu of Kanagawa Academy of Science and Technology (KAST) in Machida, Tokyo and Kitasato University in Kanagawa, Japan; Kazuo Tohya of Kansai College of Oriental Medicine in Osaka, Japan; and Takashi Ohtsu of Kanagawa Academy of Science and Technology (KAST) in Machida, Tokyo and Kanagawa Cancer Center Research Institute in Yokohama, Japan. This work was supported, in part, by the National Space Development Agency of Japan.
Kondo et al.: "Circannual Control of Hibernation by HP Complex in the Brain." Publishing in Cell 125, 161ñ172, April 7, 2006 DOI 10.1016/j.cell.2006.03.017 www.cell.com