PC Magazine Honors NASA App as Editors' Choice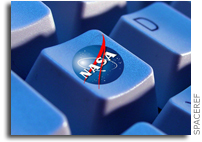 MOFFETT FIELD, Calif. – The NASA App, developed by a small team of software engineers at NASA's Ames Research Center in Moffett Field, Calif., has been selected by PC Magazine as an Editors' Choice among educational apps.
The NASA App gathers the agency's online content, breaking news, image and video collections, news and image feeds, social media accounts, and more in one easy-to-use location that aids public access to science, technology and engineering discoveries. The NASA App supports many mobile platforms, including the iPhone, iPod touch, iPad Android phones and tablets. The NASA App currently has more than 10 million user installations and receives more than three million hits per day on average.
"There are many good NASA-sponsored or NASA-related apps for the iPad, but none compares in breadth of content with NASA App HD," said Tony Hoffman, analyst at PCMag.com. "This app combines insightful articles and news stories, dazzling images and videos, live TV feeds, and more as a one-stop portal for most everything NASA. Everyone from children and young students to hardcore space geeks will find fascinating things in this app, and it's an easy pick."
In November, NASA plans to release an updated version of the NASA App for iPhone and iPod Touch that will include a feature to alert users 15 minutes before the International Space Station passes overhead. The new version also will support the larger screen on the iPhone 5 and new iPod Touch.
Last month, NASA App co-won the 2012 NASA Software of the Year award for being an innovative software technology that significantly improves the agency's exploration of space and maximizes scientific discovery on Earth.
"The NASA App has been a huge success," said Jerry Colen, NASA App project manager at Ames. "I'm very proud to have been part of the team that developed a mobile app for millions of people to learn more about NASA's science and exploration efforts on Earth and beyond."
All of the NASA Apps for iPhone, iPod touch, iPad and Android showcase a wealth of NASA content, including thousands of images, videos on-demand, live streaming of NASA Television, the agency's Third Rock online radio station, mission and launch information, featured content, stories and breaking news. Users also can find sighting opportunities for the International Space Station and track the position of the orbiting laboratory. App users also easily can share NASA content with their friends and followers on Facebook, Twitter or via email.
iPhone, iPod touch, iPad and the Apple App Store are trademarks of Apple Inc. Use of these trademarks is subject to Apple permission. Android is a trademark of Google Inc. Use of this trademark is subject to Google permission.
For more information about NASA Apps, visit: http://www.nasa.gov/nasaapp