Orion Propulsion Completes Qualification Testing for Innovative "Green" Propulsion System that will Power World's First Commercial Space Habitat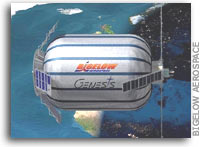 Bigelow Aerospace Approves System; Moves to Production of Flight Hardware
HUNTSVILLE, Ala.–Orion Propulsion, Inc. today announced completion of a qualification test program for the Forward Propulsion System (FPS) of Bigelow Aerospace's Sundancer Project, the world's first commercial space habitat. The innovative Orion Propulsion thruster system uses hydrogen and oxygen that are produced from Bigelow's proprietary Environmental Control Life Support System (ECLSS) as propellants for the spacecraft's attitude control system. This truly "people-powered" space craft, which burns hydrogen and oxygen generated from water, sweat, and urine, eliminates the need for more toxic propellants such as hydrazine and nitrogen tetroxide that are more costly to use and harmful to the environment – on Earth and in space.
Tim Pickens, CEO of Orion Propulsion, said, "We are excited to complete this critical demonstration that will move Bigelow Aerospace one step closer to creating a self-sufficient commercial human habitat that is safer and more environmentally friendly than any other system in use. I am proud of our team for delivering a best-in-class solution for this landmark project. We look forward to completing production and flying critical flight hardware on the world's first commercial space habitat."
"Orion Propulsion has been an excellent partner and has met every delivery date and performance milestone," said Bigelow Aerospace Program Manager, Eric Haakonstad. "Their team worked with our very specific and demanding requirements to put together an elegant and "green" propulsion system that is safe, cost efficient, powerful and reliable – these are critical elements that will enable Sundancer's success over its 15 year life cycle in space."
The test program was a thorough evaluation of the propulsion system and included thermal cycle vacuum testing, electro-magnetic interference testing, acoustic and vibration testing. In addition, an accelerated life test program was conducted simulating space environments including vacuum, and temperature swings. The culmination of the qualification period was a Design Certification Review held with Bigelow Aerospace May 27-28, 2009. The review presented the results of the qualification test program and documented the requirement verification process for the FPS. The review was passed and authority has been given to proceed with assembly of the flight hardware. The assembly of flight hardware began June 1, 2009 and will continue through the summer. The first flight ship-set should be completed in August of this year.
The Orion Propulsion "green propulsion" system provides environmental benefits through eliminating the need to launch into the atmosphere other highly toxic propellants such as hydrazine or nitrogen tetroxide, thus reducing weight and launch costs. It also creates a safer, cleaner work environment for humans on Earth and in space. In addition, it can be adapted for other uses including "roll control" for small launch vehicles and propulsion or attitude control on other space craft.
About Bigelow Aerospace
Bigelow Aerospace is dedicated to developing next-generation crewed space complexes to revolutionize space commerce and open up the final frontier to all of humanity. At Bigelow Aerospace, we're building the future today! For more information, visit www.bigelowaerospace.com.
About Orion Propulsion, Inc.
Orion Propulsion is a leading provider of reliable, affordable rocket propulsion systems and test infrastructure solutions to commercial and government organizations. Founded in 2004 by CEO Tim Pickens, Orion Propulsion specializes in rocket propulsion design and fabrication, engine testing services, ground support equipment, and launch operations support. Orion Propulsion is a woman-owned business, headquartered in Huntsville, AL. For more information, visit www.orionpropulsion.com.
Contact:
Phillips & Company for Orion Propulsion
Scott Green, 512-402-5857 x-26
wsgreen@phillipscompany.com