Orbital Joins Lockheed Martin-Led Crew Exploration Vehicle Team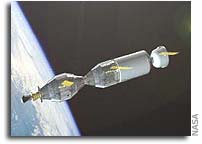 (Dulles, VA 31 January 2005) – Orbital Sciences Corporation (NYSE: ORB) announced today that it has joined a Lockheed Martin (NYSE: LMT) led "all-star" team of aerospace industry innovators competing to design and build NASA's new Crew Exploration Vehicle (CEV). Orbital's teaming agreement with Lockheed Martin continues the company's history as a key participant in the development of a next-generation human space transportation system. In chronological order, Orbital has contributed to NASA's Space Transportation Architecture Studies, the Space Launch Initiative, and, most recently, the Orbital Space Plane program, all of which have led to the decision by NASA to develop and build the CEV.
Orbital will bring its expertise and extensive experience in several areas to the Lockheed Martin team, including solid fuel propulsion integration, in-orbit space systems, safety and risk management, and a new capability, in-orbit autonomous rendezvous.
"We are very excited to play a key role on the Lockheed Martin CEV team," said Ms. Sally Richardson, Orbital's Senior Director, Advanced Programs. "Our employees are anxious to begin the process of helping to develop the first human space exploration vehicle in a generation."
The CEV is an essential component of President Bush's Vision for Space Exploration of the Moon, Mars and beyond. The CEV will serve as a key element of NASA's next-generation human space transportation system that will carry astronauts from Earth to space, with improved safety, reliability and efficiency. NASA is expected to select two prime contractor teams later this year for preliminary CEV design and a risk reduction flight test program. The final selection of a single CEV contractor team is slated for 2008.