O3b Networks To Deploy World's First High-Speed, Low-Cost Satellite System to Transform Communications Access for Billions Worldwide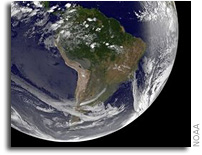 New communications system to enable low-latency trunking for emerging markets
O3b Networks Ltd. today announced it will begin deployment of a new global communications infrastructure to provide high-speed, low-cost Internet connectivity to emerging markets in Asia, Africa, Latin America and the Middle East.
Backed with financial and operational support from Google Inc., Liberty Global, Inc. and HSBC Principal Investments, the new system will reduce bandwidth costs for telecommunications operators (telcos) and Internet service providers (ISPs) – enabling cost-effective voice and broadband services at speeds equivalent to those enjoyed in the developed world.
Developed nations, particularly in the northern hemisphere, are well served by an extensive submarine fiber network. The deployment of a fiber network in many developing markets is not commercially viable, let alone practical.
The O3b Networks system will offer fiber performance over satellite, at prices comparable to fiber in developed regions. By allowing direct connection to core networks and 3G Cellular/WiMAX towers, the O3b Networks system will completely change the economics of telecommunications infrastructure in the world's fastest-growing markets for communications services.
The rapid growth of telecommunications services in emerging markets demonstrates the demand as well as the commercial and social benefits available. In O3b Networks' target markets, where the deployment of high-capacity bandwidth is restricted due to geographic, economic or political barriers, the Company's low-cost, low-latency Internet backhaul and 3G Cellular backhaul services will allow telcos and ISPs to offer affordable, high-speed Internet access services – effectively bridging the digital divide between developed and emerging markets.
O3b Networks' operational and technical development is well underway. Production of the initial constellation of 16 satellites has begun. The system's 2,133 transponder equivalents will deliver low-latency Internet backhaul at speeds reaching 10 gigabits per second. Service activation is scheduled for late 2010. The scalable nature of the system allows for additional satellites to increase capacity and meet growing demand.
O3b Networks was founded by successful high-technology entrepreneur Greg Wyler with a mission of making the Internet accessible and affordable for billions of people in emerging and developed markets.
Wyler, along with O3b Networks Chairman John W. Dick, recently helped pioneer the first commercial 3G mobile and fiber-to-the-home (FTTH) networks in Africa. That experience revealed the urgent need in developing countries for low-latency, gigabit backhaul services that can power high-speed data and voice connectivity for consumers, businesses, schools and health care facilities.
"Access to the Internet backbone is still severely limited in emerging markets," Wyler said. "Only when emerging markets achieve affordable and ubiquitous access to the rest of the world will we observe locally generated content, widespread e-learning, telemedicine and many more enablers to social and economic growth which reflect the true value of the Internet. O3b Networks will bring multi-gigabit Internet speeds directly to emerging markets, whether landlocked in Africa or isolated by water in the Pacific Islands."
Bringing together Google, Liberty Global and HSBC has created a team that is ideally suited to help bring this new service to market.
"O3b Networks' model empowers local entrepreneurs and companies to deliver Internet and mobile services to those in currently underserved or remote locations at speeds necessary to power rich web-based applications," said Larry Alder, Google Alternative Access Team Product Manager. "We believe in O3b Networks' model and its goal of expanding the reach of the Internet to users who currently have limited and expensive connection options, as it complements our mission of organizing the world's information and making it universally accessible and useful."
Liberty Global is the world's leading international cable operator, offering advanced video, telephone and broadband Internet services to 16.1 million customers across 15 countries. Liberty Global CEO Michael Fries said, "Core transmission capacity is one of the most significant barriers to rolling out the high-speed telecommunications infrastructure necessary for a developing country and its economy. Using innovative modern satellite technology, O3b Networks will make fiber-quality connectivity available throughout most of the world, without having to lay any fiber."
Richard J Cole, HSBC Global Head of Principal Investments & Private Equity, said, "HSBC's Principal Investments business is pleased to invest in O3b Networks and support the company's enabling high-speed, low-cost Internet connectivity in emerging markets. This investment is integral to HSBC Principal Investments' strategic focus of investing primarily in growing emerging markets."
About O3b Networks Ltd.
With its system deployment scheduled for late 2010, O3b Networks will bridge the digital divide by building a global Internet backbone for telcos and ISPs in emerging markets. The Company is committed to connecting the networks of developed countries with the "other three billion" people who have limited Internet access, hence the name O3b. With investment and operational support from some of the world's largest communications and finance companies, O3b Networks is now building a distribution network to serve a population of several billion consumers and businesses in more than 150 countries. O3b Networks' headquarters are in St. John, Jersey, Channel Islands. Ground systems and technical development are managed through its wholly owned subsidiary in Englewood, Colorado. For more information, please visit www.o3bnetworks.com.