NPOESS Preparatory Project Ground Segment Ready for Operations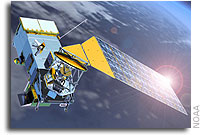 Segment reaches major milestone as program prepares for launch
The National Polar-orbiting Operational Environmental Satellite System (NPOESS) team reached a major milestone as the final portion of the NPOESS Preparatory Project (NPP) ground system was transitioned to operations.
Raytheon Company (NYSE:RTN) , Northrop Grumman Corp. (NYSE:NOC) , NASA and the NPOESS Integrated Program Office officially handed over the NPOESS Interface Data Processor for NPP satellite data processing to the Northrop Grumman operations and support integrated product team July 7.
This milestone furthers the capabilities of the NPP ground system to support mission-readiness activities.
NPOESS is designed, and is being built, to deliver science-quality weather and climate information to serve defense and civil applications on an operational basis. NPP is a risk-reduction mission for NPOESS, an early flight opportunity for key NPOESS sensors and a bridge between NASA's Earth Observation System missions and NPOESS.
In addition to the Raytheon team developing, integrating and testing the NPP ground segments, Northrop Grumman, with Raytheon, will operate and maintain the NPP-NPOESS enterprise through the system's projected life. NPP is scheduled to be launched from Vandenberg Air Force Base, Calif., in January 2011.
"We can now fully support real-time data transmission from the ground site at Svalbard, Norway, through product delivery at NOAA and Air Force centrals," said Michael Mader, vice president of space and environmental mission solutions, Raytheon Intelligence and Information Systems. "This handover culminates a tremendous effort by all parties, from the integrated program office team, NASA, contractors and end-users. NPP will take a major step in advancing the state-of-the-art in environmental remote sensing."
The NPP ground segments provide satellite command and control; mission planning; communications; and environmental sensor data processing. The complete NPP ground system includes elements at Svalbard, Norway; the NOAA satellite operations facility, Suitland, Md.; the Air Force Weather Agency, Offutt Air Force Base, Neb; White Sands Complex, N.M.; and Raytheon's ground integration and support facility, Aurora, Colo.
Raytheon is part of prime contractor Northrop Grumman's NPOESS team.
Raytheon IIS is a leading provider of intelligence and information solutions, specializing in ground processing, unmanned ground systems, cybersecurity operations, homeland security and other markets to resolve the most complex problems for our customers worldwide. IIS had 2008 revenues of $3.1 billion and employs more than 9,000 engineering and technical professionals worldwide.
Raytheon Company, with 2008 sales of $23.2 billion, is a technology and innovation leader specializing in defense, homeland security and other government markets throughout the world. With a history of innovation spanning 87 years, Raytheon provides state-of-the-art electronics, mission systems integration and other capabilities in the areas of sensing; effects; and command, control, communications and intelligence systems, as well as a broad range of mission support services. With headquarters in Waltham, MA, Raytheon employs 73,000 people worldwide.
Contact:
Keith Little
703.849.1675