Northop Grumman Invites Media and Public to Visit James Webb Space Telescope Exhibit at South by Southwest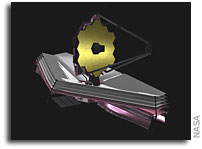 In the spirit of the South by Southwest (SXSW) Interactive Festival's "space exploration" theme, Northrop Grumman Corporation will display its tennis-court-sized, four-story-high, full-scale model of the James Webb Space Telescope on the lawn outside the Long Center for the Performing Arts in Austin, Texas, March 8-10.
Visitors can learn about the vision behind the Webb telescope and the challenges of its construction in an immersive experience that showcases the science, images, and technologies changing people's understanding of the universe. Free to the public, the exhibit will feature Microsoft Research's interactive World Wide Telescope and activities with NASA that demonstrate how the Webb telescope will inspire the next generation of scientists and engineers to push the boundaries of science and technology. Visitors will get an in-depth look at the perplexing questions this advanced telescope is designed to help answer, such as: How did the universe make its first stars and galaxies? Is our solar system unique? Are we alone in the cosmos?
What:
The James Webb Space Telescope exhibit at SXSW opens to the general public on Friday, March 8. Media are invited for a sneak preview of the exhibit to get B-roll footage and advance photographs and interviews from Wednesday, March 6, through Friday, March 8, by appointment. NASA and Northrop Grumman representatives will be available for interviews.
Media may also visit the Webb Telescope exhibit with the SXSW crowds from Friday, March 8, through Sunday, March 10, and interview the team that is building the James Webb Space Telescope, including representatives from NASA, the Space Telescope Science Institute, Northrop Grumman, Ball Aerospace, ATK, and ITT Exelis.
For more information, including a full list of events, visit the SXSW event microsite:
http://www.northropgrumman.com/WEBBatSXSW
When:
* Media tour before the exhibit opens to the public — By appointment Wednesday, March 6; Thursday, March 7; and Friday, March 8
* Webb Telescope exhibit (free and open to the public) — Friday, March 8, to Sunday, March 10, from noon to 11 p.m. U.S. Central time
* Guinness world record attempt: largest outdoor astronomy lesson — Taught by astronaut John Grunsfeld on Sunday, March 10, at 7:30 p.m. U.S. Central time
Where:
On the lawn of the Long Center for the Performing Arts
701 W. Riverside Drive
Austin, TX 78704
Map: http://www.northropgrumman.com/MediaResources/MediaKits/WEBBatSXSW/PublishingImages/map.jpg
Contact:
Christina Thompson
+1 310-736-5591
christina.thompson@ngc.com
Note: Media representatives unable to attend South By Southwest in person can follow the event on social media (e.g., on Twitter, follow hashtags #sxsw and #jwst). Also, Northrop Grumman can provide video, stills, and other related content; contact Christina Thompson.
Northrop Grumman is a leading global security company providing innovative systems, products and solutions in unmanned systems, cybersecurity, C4ISR, and logistics and modernization to government and commercial customers worldwide.