Next Space Station Crew to Participate in NASA TV Briefing, Media Interviews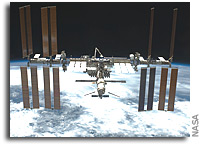 The next crew to launch to the International Space Station (ISS), including NASA astronaut Barry "Butch" Wilmore, will participate in a NASA Television news conference and media interviews Wednesday, July 16, at the agency's Johnson Space Center in Houston.
Wilmore, and cosmonauts Elena Serova and Alexander Samokutyaev of the Russian Federal Space Agency (Roscosmos), will launch to the space station Sept. 25 from the Baikonur Cosmodrome in Kazakhstan aboard a Soyuz TMA-14M spacecraft.
The news conference with the crew members will air live on NASA TV at 2 p.m. EDT, July 16. B-roll video of the crew's training will air at 1:30 p.m. Reporters who wish to participate by telephone must call Johnson's newsroom at 281-483-5111 no later than 1:45 p.m. Those following the briefing on social media may ask questions using the hashtag #askNASA.
After the news conference, interview opportunities with individual crew members will be available for media participating in person, by phone or online. To request credentials to attend in person, or to reserve an interview opportunity, media must contact Johnson's newsroom by 5 p.m. Monday, July 14.
Wilmore, Serova and Samokutyaev will serve as flight engineers for ISS Expedition 41 until November, at which time Wilmore will assume command of Expedition 42. The trio is scheduled to return to Earth in March 2015.
A captain in the U.S. Navy, Wilmore grew up in Mt. Juliet, Tennessee. He is a graduate of Tennessee Technological University and the University of Tennessee. During his tenure as a fleet naval officer and pilot, Wilmore completed four operational deployments, flying the A-7E and FA 18 aircraft. He has accumulated almost 7,000 flight hours and more than 600 carrier landings.
Wilmore joined NASA in 2000 and flew aboard the space shuttle Atlantis for STS-129 in November 2009. The mission delivered two Express Logistics Carriers and about 30,000 pounds of replacement parts to the space station. To date, Wilmore has 10 days, 19 hours and 16 minutes of spaceflight to his credit.
Expedition 41 crew members will share their flight experiences on Instagram. Those interested can follow along at:
For Wilmore's full biography, visit:
For NASA TV streaming video, schedule and downlink information, visit:
For more information about the International Space Station, its crews and research, visit: