New Explorations into Science, Technology and Math School Experiment among NASA Cargo on Space Station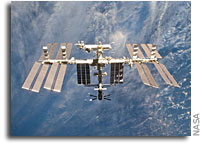 An experiment designed by New Explorations into Science, Technology and Math School in New York is among the cargo which arrived to the International Space Station Sunday on the Orbital-1 cargo resupply mission.
Designed by fifth graders, the experiment, entitled "Mammalian Milk in Microgravity," is part of the NanoRacks-National Center for Earth and Space Science Education-Falcon II payload.
This experiment seeks to discover whether or not bacteria grow differently in milk while exposed to microgravity. The experiment uses a powdered milk and water mixture that will allow bacteria to grow. Once returned to Earth, bacterial content grown in microgravity will be examined and compared to the bacterial content grown in ground controls. The students will conduct a standard plate count, a direct microscopic count and a dye reductase test of the two milk samples.
Orbital-1 is NASA's first contracted resupply mission to the space station by U.S. company Orbital Sciences Corp. of Dulles, Va. Orbital's Cygnus launched atop the company's Antares rocket from NASA's Wallops Flight Facility in eastern Virginia on Jan. 9. Expedition 38 crew members captured the Cygnus using the space station's robotic arm at 6:08 a.m. Sunday, Jan. 12.
Orbital developed its Antares and Cygnus with NASA and successfully completed a test mission to the space station in September, enabling the first of eight planned contract resupply flights by the company. The capsule is scheduled to remain attached to the station through mid-January. It then will return for a destructive reentry in Earth's atmosphere.
The International Space Station is a convergence of science, technology and human innovation that demonstrates new technologies and makes research breakthroughs not possible on Earth. The space station has had continuous human occupation since November 2000. In that time it has been visited by more than 200 people and a variety of international and commercial spacecraft. The space station remains the springboard to NASA's next great leap in exploration, including future missions to an asteroid and Mars.
For more information about the Orbital-1 mission and the International Space Station, visit:
X