New EC website highlights European-Russian co-operation in space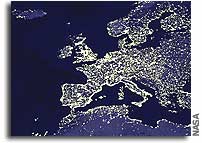 Following the joint document on 'New Opportunities for a Euro-Russian Space Partnership' and in the run-up to a major workshop in Moscow, a new website has been launched aimed at keeping readers informed of ongoing developments in European-Russian co-operation in space, providing news, research results, and links to other sources of information.
The new website, called "Europe/Russia co-operation in space", is the result of the combined efforts of the European Commission, the Russian Aviation and Space Agency (Rosaviakosmos) and the European Space Agency (ESA) . It represents the realisation of an idea first proposed by Research Commissioner Philippe Busquin. In a letter addressed to Rosaviakosmos Director General Yuri Koptev, Busquin proposed a new website which would, "provide interesting and up-to-date information about developments related to Euro/Russia Space co-operation".
Russian participation under FP6
With a view to promoting co-operation and partnership between Europe and Russia, the European Commission welcomes the participation of Russian researchers in its Sixth Framework Programme for Research and Technological Development (FP6). In addition to Russian involvement in Integrated Projects, Networks and Centres of Excellence, specific international activities are being promoted on the basis of common interests and objectives as well as the particular economic and social needs of Russia.
In a series of meetings held in 2002, the Commission and the Russian Federation devised an action plan to guide co-operative research activities under FP6. While specific areas have been identified as being most likely to benefit from collaborative research, including nanotechnologies; information technologies; biotechnologies; and of course aeronautics and space, all of the FP6 thematic priorities are open to participation by third-country researchers and institutions.
Co-operation on a broad front
Euro-Russian co-operation in space covers a variety of activities, all of which are addressed on the new website. They include satellite navigation, earth observation, space transport and space-based research. Also included on the new site are profiles of the European Commission, Rosaviakosmos and ESA, as well as information on upcoming events and other web resources.