NASA'S Top Space Exploration Stories of the Year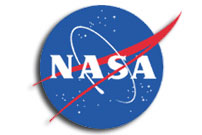 NASA completed a successful year of milestones and discoveries in 2005 as the agency begins to implement the Vision for Space Exploration, America's long-term plan for returning astronauts to the moon to prepare for voyages to Mars and other destinations in the solar system. The year included returning the space shuttle to flight, the announcement of plans for America's next generation spacecraft and numerous scientific milestones. Top stories for year in space exploration include:
SPACE SHUTTLE RETURNS TO FLIGHT
Space shuttle Discovery successfully completed a complex flight, the first mission since the Columbia accident in 2003, to the International Space Station. The mission included breathtaking maneuvers, spacewalks and tests of new procedures and safety equipment. The flight was successful, but engineers are still concerned about external tank insulating foam. NASA is committed to solving this problem before launching the next shuttle mission. (For images and information visit: http://www.nasa.gov/returntoflight)
NASA'S NEXT GENERATION SPACECRAFT
NASA announced plans for its next generation spacecraft and launch system, which will be capable of delivering crew and supplies to the International Space Station, carrying four astronauts to the moon and supporting up to six crewmembers on future missions to Mars. The new crew vehicle will be shaped like an Apollo capsule, but will be significantly larger. (For images and information, visit: http://www.nasa.gov/exploration)
DEEP IMPACT ENCOUNTERS COMET
The Deep Impact spacecraft traveled approximately 268 million miles to meet comet Tempel 1. Its impactor collided with the target's nucleus, giving researchers the best-ever comet data and images. (For images and information, visit: http://www.nasa.gov/deepimpact)
MARS TWINS KEEP ON ROVING
The Mars exploration rovers continued studying the harsh Martian environment. The rover Spirit discovered the composition of rock outcrops altered by water, and the rover Opportunity found evidence that water once flowed across the Martian surface. Both have completed a full Martian year of exploration and discovery. (For images and information, visit: http://www.nasa.gov/mars)
INTERNATIONAL SPACE STATION MARKS FIVE-YEAR MILESTONE
NASA and the 15 international station partners marked the fifth anniversary of continuous crewed operations in November. NASA scientists have gathered vital information on the station that will help with future long-duration missions, as the station has a unique microgravity environment that cannot be duplicated on Earth. (For images and information, visit: http://www.nasa.gov/station)
CASSINI/HUYGENS SPACECRAFT ACCOMPLISH MISSION
The Huygens probe successfully descended through the murky atmosphere of Saturn's largest moon, Titan. Huygens discovered the moon is remarkably Earth-like. The probe found evidence of methane rain, erosion, drainage channels, dry lake beds, volcanism and very few craters. The Cassini spacecraft toured Saturn's moons and sent back breathtaking photographs of the icy satellites. (For images and information, visit: http://www.nasa.gov/cassini).
NEW MARS RECON CRAFT SUCCESSFULLY LAUNCHED
NASA's latest Mars mission, launched Aug. 12, will rendezvous with the red planet on March 10, 2006. The Mars Reconnaissance Orbiter will view the planet from low orbit and provide more data than all previous Martian missions combined. (For images and information, visit: http://www.nasa.gov/mro)
NASA'S VOYAGER REACHES THE FINAL FRONTIER & HEADS FOR DEEP SPACE
Voyager 1 entered the solar system's final frontier. After traveling approximately 8.7 billion miles from the sun, it entered the heliosheath, the vast, turbulent expanse where the sun's influence ends and the solar wind crashes into the thin gas between stars. (For images and information, visit: http://www.nasa.gov/voyager)
HUBBLE SPACE TELESCOPE CONTINUES EXPLORATION & DISCOVERY
Using Hubble, astronomers discovered Pluto may have three moons. The discovery could offer insights into the nature and evolution of the Pluto system and the Kuiper Asteroid Belt. Hubble's resolution and sensitivity to ultraviolet light also helped researchers look for important minerals on Earth's moon that could be critical for a sustained human presence. (For images and information, visit: http://www.nasa.gov/hubble)
SPITZER DETECTS FIRST LIGHT FROM AN EXTRASOLAR WORLD
NASA's Spitzer Space Telescope captured the first light ever detected from two planets orbiting stars other than the sun. Spitzer picked up the infrared glow from the Jupiter-sized planets. The findings mark the beginning of a new age of planetary science, in which extrasolar planets can be directly measured and compared. (For images and information, visit: http://www.nasa.gov/vision/universe/newworlds/spitzer-032205.html)
NASA SWIFTLY SOLVES 35-YEAR-OLD MYSTERY
Through coordination of observations from several ground-based telescopes and NASA'S Swift and other satellites, scientists solved the 35-year-old mystery of the origin of powerful, split-second flashes of light called short gamma-ray bursts. The flashes are brighter than a billion suns, yet last only a few milliseconds. They had been too fast for earlier instruments to catch. (For images and information, visit: http://www.nasa.gov/swift)
For information about NASA and agency programs on the Web, visit: http://www.nasa.gov/podcast