NASA's NPP Climate Satellite Passes Pre-Environmental Review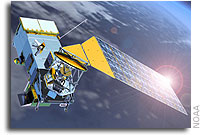 The NASA National Polar-orbiting Operational Environmental Satellite System (NPOESS) Preparatory Project (NPP) climate/weather satellite has successfully completed its Pre-Environmental Review (PER) at Ball Aerospace & Technologies Corp's production and test facility in Boulder, Colo., and will begin flight environmental testing in the upcoming weeks.
A group of multi-disciplinary experts from NASA and NOAA, as well as a number of independent reviewers conducted the pre-environmental review of the five-instrument satellite. The review team assessed the satellite test activities completed to-date, the completeness and adequacy of the environmental test plans, and determined the satellite is ready to proceed with its environmental test campaign.
"We are confident that the NPP satellite systems are robust and we are preparing the satellite to undergo rigorous environmental testing," stated Ken Schwer, NPP Project Manager, at NASA's Goddard Space Flight Center, Greenbelt, Md.
Environmental Test flow includes vibration, acoustics, shock, electromagnetic interference and compatibility and thermal vacuum, and is scheduled to begin in September. The launch is slated for October 2011.
The five-instrument suite includes: the Visible/Infrared Imager Radiometer Suite (VIIRS); the Cross-track Infrared Sounder (CrIS); the Clouds and the Earth Radiant Energy System (CERES); the Advanced Technology Microwave Sounder (ATMS); and the Ozone Mapping and Profiler Suite (OMPS). NPP's advanced visible, infrared, and microwave imagers and sounders will improve the accuracy of climate observations and enhance capabilities to the nation's civil and military users of satellite data. NPP is designed to provide continuity with NASA's Earth Observing System (EOS) satellites for climate observations and to provide the operational weather community with risk reduction for the next generation of weather satellites.
NASA's Goddard Space Flight Center manages the NPP mission on behalf of the Earth Science Division of the Science Mission Directorate at NASA Headquarters, Washington.
For information about NASA and agency programs on the Web, visit: http://www.nasa.gov
NASA Awards Contract to Revitalize Power Distribution Systems
CAPE CANAVERAL, Fla. — NASA has selected MIL-CON Electric Company of Jacksonville, Fla., to revitalize the high and medium electric voltage power distribution systems throughout NASA's Kennedy Space Center. The value of the contract is approximately $6.1 million.
MIL-CON's scope of work includes modifications to the systems providing high voltage utility power service at Kennedy. This work will span the space center from the Industrial Area to Launch Complex 39 and will significantly improve electrical systems reliability. In addition, the contract will include substation improvement work, installation of new medium and low voltage switch equipment, and replacement of power cables approaching the end of their service life. A major electrical rehabilitation to Complex 39 launch pads and the Vehicle Assembly Building will be undertaken to support future launch programs.
The project is scheduled to begin in the fall of 2010 and will take two years to complete.
For more information about NASA and agency programs, visit: http://www.nasa.gov