NASA's Michoud Assembly Facility Ramps Up to Build New Space Launch System Rocket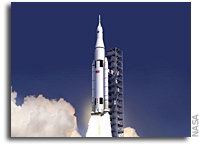 What: On Oct. 24, Michoud Assembly Facility in New Orleans, La. will host the Space Launch System (SLS) Industry Day to brief local businesses on upcoming partnership opportunities. The SLS will launch NASA's Orion spacecraft and other payloads beyond low Earth orbit, and provide an entirely new capability for human exploration. The heavy-lift rocket's massive core stage will be built at Michoud.
Industry Day speakers will provide an update on the progress of the SLS and Orion Programs, and offer an update on their respective acquisition strategies. Michoud will also present information about the upcoming construction of facilities projects.
More information about the event can be found at http://slsindustrydayatmaf.blogspot.com/.
Who: Roy Malone, Michoud Assembly Facility Director and Todd May, Space Launch System Program Manager.
When: Event begins Wednesday, Oct. 24 at 8 a.m. CDT. Members of the media are required to arrive no later than 9:00 am for access to the event. Media availability with Roy Malone and Todd May will begin at 10:00 a.m. CDT
Where: Building 103, Michoud Assembly Facility
To attend: News media interested in attending the event should contact Chip Howat at carl.j.howat@nasa.gov or by phone at 504-214-6745 no later than 8:30 a.m. CDT on Oct. 24. Media must report to 13800 Old Gentilly Road, Building 350 visitor's parking lot no later than 9:00 a.m. CDT in order to be admitted to the facility. All news media must have their official media credentials with photo identification to be allowed access to the site.