NASA's Kepler Announcing Newly Confirmed Planets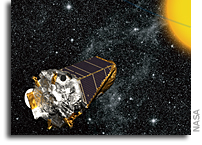 NASA will host a news teleconference at 1 p.m. EST, Tuesday, Dec. 20, announcing new discoveries by the Kepler mission. Kepler is the first NASA mission capable of finding Earth-size planets in or near the "habitable zone," the region in a planetary system where liquid water can exist on the surface of an orbiting planet. Although additional observations will be needed to reach that milestone, Kepler is detecting planets and possible candidates with a wide range of sizes and orbital distances to help scientists better understand our place in the galaxy.
The briefing participants are:
— Nick Gautier, Kepler project scientist, NASA's Jet Propulsion Laboratory (JPL) in Pasadena, Calif.
— Francois Fressin, lead author, Harvard-Smithsonian Center for Astrophysics in Cambridge, Mass.
— David Charbonneau, professor of astronomy, Harvard University
— Linda Elkins-Tanton, director of the Carnegie Institution for Science's Department of Terrestrial Magnetism in Washington.
For dial-in information, media representatives should e-mail their name, affiliation and telephone number to Trent Perrotto at: Trent.j.perrotto@nasa.gov
For live audio of the teleconference, visit:
NASA's Ames Research Center in Moffett Field, Calif., manages Kepler's ground system development, mission operations and science data analysis. JPL managed Kepler mission development. Ball Aerospace and Technologies Corp. in Boulder, Colo., developed the Kepler flight system and supports mission operations with the Laboratory for Atmospheric and Space Physics at the University of Colorado in Boulder.
The Space Telescope Science Institute in Baltimore archives, hosts and distributes Kepler science data. Kepler is NASA's 10th Discovery Mission and is funded by NASA's Science Mission Directorate at the agency's headquarters in Washington.
For information about the Kepler Mission, visit: