NASA's High-Flying Space Shuttle Crew to Answer Student Questions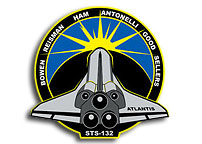 NASA's space shuttle astronauts will answer elementary and middle school students' questions Saturday while orbiting approximately 220 miles above Earth on the International Space Station. The event is scheduled from 7:40 to 8 a.m. EDT, Saturday, May 22.
Students from 12 NASA Explorer Schools submitted their questions earlier by video. Space shuttle Commander Ken Ham, Pilot Tony Antonelli, Mission Specialists Garret Reisman, Michael Good, Steve Bowen, Piers Sellers, and Expedition 23 Flight Engineer Tracy Caldwell Dyson will give answers live on NASA Television.
Viewers should consult the NASA TV schedule to confirm the timing, as the session could shift by several minutes. For NASA TV downlink, schedule and streaming video information, visit: http://www.nasa.gov/ntv
The NASA Explorer Schools that submitted video questions are:
John B. Cary Elementary in Richmond, Va
Cumberland Middle School in Cumberland, Wisc.
Rodriguez Elementary in Harlingen, Texas
Hobgood Elementary in Murfreesboro, Tenn.
Lebanon Middle School in Lebanon, Ky.
Ellen Ochoa Learning Center in Cudahy, Calif.
Orleans Elementary in Orleans, Vt.
Wendover High School in Wendover, Utah
Harding Middle School in Des Moines, Iowa
Conyers Middle School in Conyers, Ga.
Forest Lake Elementary School in Columbia, S.C.
Arapahoe School in Arapahoe, Wyo.
The NASA Explorer Schools project establishes a three-year partnership between the agency and schools in diverse communities to address local challenges in science, technology and mathematics education. The goal is to bring educators, administrators, students and families together in sustained involvement with NASA's education programs. For information about the programs, visit: http://explorerschools.nasa.gov/
For information about NASA's education programs, visit: http://www.nasa.gov/education
Atlantis' STS-132 mission includes three spacewalks, and the delivery of equipment, supplies and a new Russian module to the station. For more information about the mission, crew and shuttle, visit: http://www.nasa.gov/shuttle