NASA Welcomes 25 New NASA Explorer School Teams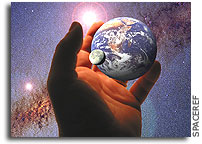 NASA welcomed 25 new NASA Explorer School teams on May 11, 2007, in a partnership to inspire students in science, technology, engineering and mathematics.
NASA Explorer Schools provide unique opportunities designed to engage and educate the future scientists who may someday help advance U.S. scientific interests through space exploration.
Part of NASA's elementary and secondary programs, the NASA Explorer Schools project looks to attract and retain students in science and technical fields through a progression of educational opportunities for students, teachers, and administrators. Currently, 200 teams are involved in the project. The teams represent all 50 states, the District of Columbia, Puerto Rico and the Virgin Islands.
Selected schools are eligible to receive up to $17,500 during the three-year partnership to help buy technology tools. The project also provides educators and students with content-specific activities that can be used in many local and state curricula to excite students about science and math.
To begin the formal partnership, a team of educators and administrators from each team will attend a one-week professional development workshop at their respective NASA center. Representatives from NASA centers will then help kick off the program with presentations at the schools in their region during the coming school year.
Through the NASA Explorer Schools project, NASA continues its tradition of investing in the nation's education. It is directly tied to the agency's major education goal of attracting and retaining students in science, technology, engineering and mathematics disciplines. To compete effectively for the minds, imaginations and career ambitions of America's young people, NASA is focused on engaging and retaining students in education efforts that encourage their pursuit of disciplines critical to NASA's future engineering, scientific and technical missions.
Related Resources