NASA Unveiling New Rocket Integration Facility At Wallops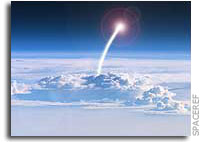 WASHINGTON — NASA will unveil its new rocket integration facility at the Wallops Flight Facility in Virginia during a ribbon-cutting ceremony at 10 a.m. EDT on March 22.
The Horizontal Integration Facility will support medium-class mission capabilities. The first customer to use the facility will be Orbital Sciences Corp. of Dulles, Va., with its Taurus II launch vehicle.
Orbital will conduct missions for NASA under the agency's Commercial Orbital Transportation Services project and Commercial Resupply Services program. Integration of the Taurus II in the facility will begin this month, with the first launch expected later this year.
Participants in the ceremony are:
– Sen. Barbara Mikulski
– NASA Administrator Charles Bolden
– NASA Associate Administrator for Space Operations William Gerstenmaier
– NASA Goddard Space Flight Center Director Rob Strain
– NASA Wallops Flight Facility Director William Wrobel
– Orbital Sciences Corp. Chairman and CEO David Thompson
The ribbon-cutting ceremony initially was scheduled for Jan. 21, but was postponed because of bad weather. Media representatives interested in attending this event must contact Keith Koehler at keith.a.koehler@nasa.gov or 757-824-1579 by noon on March 18.
For more information about Wallops, visit: http://www.nasa.gov/wallops
For more information about the Commercial Orbital Transportation Services project, visit: http://www.nasa.gov/cots