NASA TV to Air Space Station Russian Spacewalk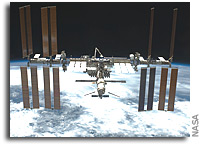 NASA Television will air live coverage of a six-and-a-half hour spacewalk by two Russian International Space Station crew members beginning at 9:15 a.m. EDT Thursday, June 19.
Expedition 40 Flight Engineers Alexander Skvortsov and Oleg Artemyev of the Russian Federal Space Agency will don their Orlan spacesuits and exit the Pirs airlock at 9:50 a.m. to install new communications equipment on the Zvezda service module. They also will reposition hardware.
The spacewalk will be the 180th in support of space station assembly and maintenance and the first for both Skvortsov and Artemyev. Another spacewalk for the pair is planned for late August.
Skvortsov will be designated as extravehicular crew member 1 (EV1) and will wear a spacesuit bearing red stripes. Artemyev will be designated as extravehicular crew member 2 (EV2) and will wear a suit with blue stripes.
For NASA TV streaming video, schedule and downlink information, visit:
For more information about the International Space Station and its crew, visit: