NASA to Unveil Kepler Space Telescope Discoveries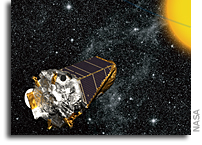 MOFFETT FIELD, Calif. – Kepler Mission scientists will reveal the space telescope's latest discoveries at a news briefing in Washington on Monday, Jan. 4, 2010.
The announcement will be made at 10 a.m. PST (1 p.m. EST) at a news conference during the 215th national meeting of the American Astronomical Society (AAS) at the Washington Marriott Wardman Park hotel.
News media may participate remotely via a live audio conference call by calling 866-579-8110 from within the U.S. or 720-279-9820 internationally; when prompted enter passcode 121518. A live Web feed of the speakers' slides will be available during the presentation by visiting http://www.showmaestro.com/press. In order to view the slidecast, you must have QuickTime installed on your computer. To download a free copy, visit http://www.apple.com/quicktime/download.
NASA Ames will post the speakers' slides for downloading at http://www.nasa.gov/mission_pages/kepler/multimedia/images/aas_conference.html once the briefing begins.
In addition, Jack Lissauer, planetary scientist on the Kepler science team, will be available for interviews at NASA Ames following the news briefing. Media interested in interviewing Lissauer should contact Rachel Prucey at 650-604-0643, 650-930-6149 or by emailing rachel.l.prucey@nasa.gov.
Although the news conference will not be broadcast live on NASA Television, Kepler video will be aired on NASA TV immediately following the news briefing on the media channel.
For NASA TV schedule information and to watch NASA TV online, visit: http://www.nasa.gov/ntv
For more information about the Kepler mission on the Web, visit: http://www.nasa.gov/kepler