NASA to Provide Mars Science Laboratory Launch Update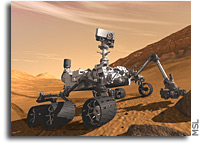 WASHINGTON — NASA will host a media teleconference at 3 p.m. EDT, Friday, Oct. 10, to brief reporters after a meeting held by the agency's administrator concerning the Mars Science Laboratory, or MSL. The meeting is to discuss technical and budget issues.
The mission, scheduled to launch in 2009, will assess a variety of scientific objectives, including whether Mars had, or has today, an environment able to support microbial life. The rover will carry the largest, most advanced suite of instruments for scientific studies ever sent to the Martian surface.
The briefing participants are:
– James Green, director of the Planetary Division in the Science Mission Directorate at NASA Headquarters in Washington
– Doug McCuistion, director of the Mars Exploration Program at NASA Headquarters
– Michael Meyer, Mars Program lead scientist at NASA Headquarters
To participate in the teleconference, reporters in the U.S. should call 1-866-398-6118 1-888-398-6118 and use the pass code "MSL." International reporters should call 1-517-308-9407.
Audio of the teleconference will be streamed live at:
For more information about MSL, visit: