NASA to Preview Upcoming Space Station Spacewalk to Repair Ammonia Leak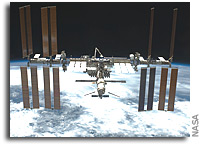 HOUSTON — NASA will hold a news conference at 1 p.m. CDT (2 p.m. EDT) Friday, Oct. 26, to preview an upcoming spacewalk involving U.S. and Japanese astronauts aboard the International Space Station. The news conference will be broadcast live on NASA Television from the agency's Johnson Space Center in Houston. Media questions will be taken by telephone and from other participating NASA locations.
Expedition 33 Commander Sunita Williams of NASA and Flight Engineer Akihiko Hoshide of the Japan Aerospace Exploration Agency will venture outside the space station Nov. 1 to repair an ammonia leak on one of the station's port-side radiators. Ammonia is circulated through the station's external thermal control systems to keep the electronics and other systems cool.
The Oct. 26 news conference briefers are:
— Michael Suffredini, International Space Station program manager
— Mike Lammers, NASA flight director, Johnson Space Center
— Allison Bolinger, spacewalk officer, Johnson Space Center
To participate by phone, media representatives must call the Johnson newsroom 15 minutes before the briefing at 281-483-5111. Priority will be given to journalists participating in person; questions by phone will be taken as time permits.
NASA Television will provide live coverage of the spacewalk beginning at 6:15 a.m. CDT Nov. 1. The spacewalk is scheduled to start at 7:15 a.m. and last approximately 6 hours and 30 minutes. This will be the seventh spacewalk for Williams and the third for Hoshide. It will be the 166th spacewalk in support of space station assembly and maintenance.
For NASA TV downlink information, up-to-date schedules and links to streaming video, visit: http://www.nasa.gov/ntv
For more information about the International Space Station, visit: http://www.nasa.gov/station