NASA to Host Teleconference About Mars Curiosity Rover Progress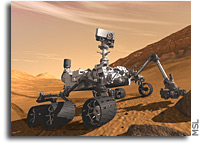 PASADENA, Calif. — NASA will host a media teleconference at 11 a.m. PDT (2 p.m. EDT) on Wednesday, Sept. 19, to provide a status update on the Curiosity rover's mission to Mars' Gale Crater.
The Mars Science Laboratory is 43 days into a two-year mission to investigate whether conditions may have been favorable for microbial life.
For teleconference dial-in information, reporters must send their name, media affiliation and phone number to Elena Mejia at elena.mejia@jpl.nasa.gov or call the JPL Media Relations Office at 818- 354-5011.
Audio and visuals of the event will be streamed live online at: http://www.nasa.gov/newsaudio and http://www.ustream.tv/nasajpl .
Visuals will be available at the start of the event at: http://go.nasa.gov/curiositytelecon .
For information about NASA's Curiosity mission, visit: http://www.nasa.gov/mars and http://mars.jpl.nasa.gov/msl .