NASA To Host Open Source Summit March 29-30 In California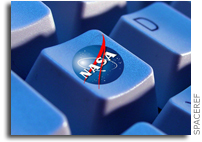 WASHINGTON — NASA will host a summit about open source software development on March 29-30 at the agency's Ames Research Center in Moffett Field, Calif. The event runs from 9 a.m. to 5 p.m. PDT on both days.
NASA's first Open Source Summit will bring together engineers, policy makers and members of the open source community. Participants will discuss the challenges within the existing open source policy framework and propose modifications to facilitate NASA's development, release and use of software.
"Open source brings numerous benefits to NASA software projects, including increased quality, reduced development costs, faster development cycles and reduced barriers for public-private collaboration to commercialize agency technology" said NASA's Chief Technology Officer for Information Technology Chris C. Kemp. "The full benefits of open source can only be achieved if NASA is able to establish the processes, policies and culture needed to encourage and support open source development."
Goals for the summit include establishing a method to support collaboration with the public throughout the development lifecycle; exploring NASA's ability to release and develop software under varied open source licenses; determining whether and to what extent NASA can participate in open source software governance bodies; and gleaning best practices from private industry and other federal agencies.
Guest speakers will provide insights into best practices and share valuable lessons learned in building and using open source communities. Confirmed speakers include Kemp; Pascal Finette, director of Mozilla Labs; Robert Sutor, vice president of Open Systems at IBM; Chris Wanstrath, CEO and co-founder of Github; and Brian Stevens, CTO and vice president of Worldwide Engineering at Red Hat.
The summit will include sessions on licensing, government restrictions, such as the International Traffic in Arms Regulations, governance, and risk assessments.
Seating at the event is limited. However, virtual participation is open to the public through online media, including live video streaming, electronic discussion and collaborative note taking. For more information or to register for the summit, visit: http://www.nasa.gov/open/source/