NASA Supports New FAA Commerical Space Transportation Center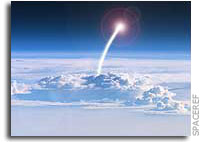 CAPE CANAVERAL, Fla. — NASA's Kennedy Space Center in Florida will support the new Center of Excellence for Commercial Space Transportation (COE), a university-led consortium sponsored and announced Wednesday by the Federal Aviation Administration (FAA). The new center will perform research and development to help build a safe and strong U.S. commercial space industry.
The nationwide team selected by the FAA and based at New Mexico State University will lead other core university members to establish and operate the new Center of Excellence (COE). Those universities include the Florida Institute of Technology in Melbourne and the Florida Center for Advanced Aero-Propulsion (FCAAP) in Tallahassee, which is a consortium of other Florida universities. Kennedy provided support for the COE during the development of proposals submitted to the FAA, along with a number of other industry and government affiliates.
"Kennedy Space Center is pleased to participate in the FAA's new Center of Excellence and to support this winning team," said Kennedy Center Director Bob Cabana. "We look forward to active involvement in these research and development initiatives. This collaborative effort initiated by the FAA aligns perfectly with NASA's evolving relationship and support for a vital U.S. commercial space industry and with our vision of a 21st Century Space Launch Complex."
Kennedy is prepared to serve as a flight test center for COE research efforts as they evolve through cooperative agreements among the partner institutions. The COE's research and development will be targeted on focus areas defined by the FAA.
"The FAA's new Center of Excellence will help build the nation's future space transportation capabilities," said Jim Ball, Kennedy's program manager for Strategic Partnerships.
For more information on the new FAA Center of Excellence, visit: http://www.faa.gov/go/coe
For information about NASA's Kennedy Space Center, visit: http://www.nasa.gov/kennedy