NASA Signs Space Nuclear Power Agreement With Department Of Energy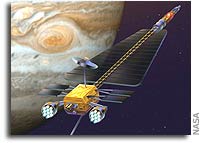 NASA and the Department of Energy's National Nuclear Security Administration – Naval Reactors (NR) today signed a Memorandum of Understanding (MOU) that will lead to the development, design, delivery, and operational support of civilian space nuclear reactors within NASA's Project Prometheus.
NASA Administrator Sean O'Keefe and DOE NNSA Deputy Administrator for Naval Reactors Admiral Frank. L. "Skip" Bowman, U.S. Navy, signed the MOU at NASA Headquarters.
"The development of this space nuclear power system will provide an important new capability to NASA for carrying out the Vision for Space Exploration, allowing us to explore farther and do more science than ever before," said Administrator O'Keefe. "This work will lead to the development of safe and reliable power generating systems that will alleviate current limitations in space power generation and propulsion that have persisted for decades, and which limit our ability to explore the solar system," he added.
The Naval Reactors organization brings 50-plus years of practical experience in developing safe, rugged, reliable, compact and long-lived reactor systems designed to operate in unforgiving environments. Naval Reactors is a joint DOE and Department of the Navy organization responsible for all aspects of naval nuclear propulsion.
The partnership is responsible for developing the first NASA spacecraft, the Jupiter Icy Moons Orbiter (JIMO) spacecraft, that will take advantage of a nuclear-reactor energy source for exploring our solar system.
The reactor system will provide substantially more electrical power than available for past missions. This will greatly enhance the capability of ion-drive propulsion, the number and variety of scientific instruments on the spacecraft, the rate of data transmission, and orbital maneuvering.
The JIMO reactor would provide more than 100 times more usable onboard power than has been available to previous science probes and demonstrate nuclear reactors can be operated safely and reliably in space to provide electrical power needed for propulsion and scientific exploration. The mission would be launched sometime in the next decade.
For more information about NASA on the Internet, visit: