NASA Signs Commercial Space Agreement With Sierra Nevada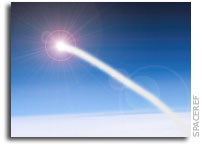 CAPE CANAVERAL, Fla. — NASA's Kennedy Space Center in Florida is entering into an agreement with Sierra Nevada Space Systems (SNSS) of Sparks, Nev., to offer technical capabilities from the center's uniquely skilled work force.
The umbrella space act agreement is Kennedy's latest step in its transition from a historically government-only launch complex to a multi-user spaceport. Sierra Nevada also has space act agreements with NASA's Johnson Space Center in Houston; NASA's Langley Research Center in Hampton, Va.; NASA's Dryden Flight Research Center at Edwards, Calif.; and NASA's Ames Research Center in Moffett Field, Calif.
"We're pleased that our partner Sierra Nevada is going to make use of the deep resources existing at the Kennedy Space Center to enhance its ongoing work," said NASA Administrator Charles Bolden. "Sierra Nevada's agreements with Kennedy and other NASA centers demonstrate its commitment to using the full resources of NASA as the agency facilitates commercial cargo and crew capabilities to the International Space Station."
Kennedy will help Sierra Nevada with the ground operations support of its lifting body reusable spacecraft called "Dream Chaser," which resembles a smaller version of the space shuttle orbiter. The spacecraft would carry as many as seven astronauts to the space station.
Through the new agreement, Kennedy's work force will use its experience of processing the shuttle fleet for 30 years to help Sierra Nevada define and execute Dream Chaser's launch preparations and post-landing activities.
"The partnership is an effort to bring new commercial space activities to the center and help transition Kennedy from a government, program-focused, single user launch complex to a diverse, multi-use spaceport, enabling both government and commercial space providers," said Kennedy Center Director Bob Cabana.
In 2010 and 2011, Sierra Nevada was awarded grants as part of the initiative to stimulate the private sector in developing and demonstrating human spaceflight capabilities for NASA's Commercial Crew Program. The goal of the program, which is based at Kennedy, is to facilitate the development of a U.S. commercial crew space transportation capability by achieving safe, reliable and cost-effective access to and from the space station and future low Earth orbit destinations.
"Our Dream Chaser vehicle was born at NASA, and NASA has continued to be an important partner in the vehicle's development," said Mark Sirangelo, head of SNSS. "By adding the Kennedy Space Center, with its highly experienced technical staff and world-class facilities, to the Sierra Nevada Dream Chaser Program we blend the best of both the NASA shuttle heritage alongside the best of industry practices."
NASA also has space act agreements with other commercial partners under the agency's Commercial Crew Program. Pratt & Whitney Rocketdyne has agreements with NASA's Marshall Space Flight Center in Huntsville, Ala., for development of the J-2X upper-stage engine; NASA's Stennis Space Center in Mississippi for hardware assurance testing; and NASA's Glenn Research Center in Cleveland, for propulsion related technology development. Space Exploration Technologies Corp. (SpaceX) in Hawthorne, Calif., has agreements with Marshall for engineering development work, and Orbital Sciences Corp. in Dulles, Va., has agreements with Marshall and Stennis for AJ-26 engine engineering support.
For more information about Kennedy, visit:
http://www.nasa.gov/kennedy
For information about NASA's commercial transportation programs, visit: http://www.nasa.gov/exploration/commercial/index.html