NASA Selects First Payloads for Upcoming Reduced-Gravity Flights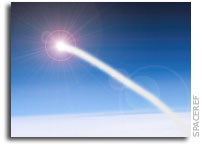 MOFFETT FIELD, Calif. — NASA has selected 16 payloads for flights on the commercial Zero-G parabolic aircraft and two suborbital reusable launch vehicles as part of the agency's Flight Opportunities Program. The flights provide opportunities for space technologies to be demonstrated and validated in relevant environments. In addition, these flights foster the development of the nation's commercial reusable suborbital transportation industry.
The payloads and teams from ten states and the District of Columbia were selected from applications received in response to a NASA call issued last December. Of the payloads, 12 will ride on parabolic aircraft flights; two on suborbital reusable launch vehicle test flights; and two on both platforms.
"Through our Flight Opportunities Program, NASA is able to align research and technology payloads with commercially-available flights to mature technologies that will benefit America's future in space," said Bobby Braun, NASA chief technologist at NASA Headquarters in Washington. "This program allows researchers, technologists and innovators to help NASA meet our future mission needs while infusing new knowledge and capabilities into our nation's universities, laboratories and space industry."
The commercial Zero-G aircraft payloads will fly during a weeklong campaign from Houston's Ellington Field in mid-July. The suborbital reusable launch vehicle payloads will fly on the Xaero, developed by Masten Space Systems of Mojave, Calif., and the Super Mod, developed by Armadillo Aerospace of Heath, Texas. These selected payloads will fly on test flights scheduled throughout 2011.
Selected payloads to fly on both platforms:
–"Investigation to Determine Rotational Stability of On-Orbit Propellant Storage and Transfer Systems Undergoing Operational Fuel Transfer Scenarios" from Embry-Riddle Aeronautical University, Daytona Beach, Fla., NASA's Kennedy Space Center, Fla., and United Launch Alliance, Centennial, Colo.; Sathya Gangadharan, project manager (PM)
–"Printing the Space Future" from Made In Space, Inc., Moffett Field, Calif.; Jason Dunn, principal investigator (PI)
Selected suborbital reusable launch vehicle payloads:
–"Electromagnetic Field Measurements on Suborbital Launch Vehicles" from Johns Hopkins University's Applied Physics Lab, Laurel, Md.; Todd Smith and Lars Dyrud, co-PI
–"Precision Landing Exploration Technology (PLANET) Demonstration" from Charles Stark Draper Laboratory, Inc., Cambridge, Mass., and NASA's Johnson Space Center, Houston; Douglas Zimpfer, PM; Tye Brady, PI
Selected parabolic payloads:
–Crew-Autonomous Biological Telemetric experiment from the University of Florida, Gainesville; Robert Ferl and Anna-Lisa Paul, co-PIs
–Advanced, Two-Phase, Space Heat Exchangers Design Tools experiment from the University of Maryland, College Park; Jungho Kim and Serguei Dessiatoun, co-PIs
–Thermosyphon Array with Controlled Operation experiment from NASA's Glenn Research Center, Cleveland. Donald Jawaorske, PI
–Radio Frequency Mass Gauge experiment from NASA Glenn; Gregory Zimmerli, PI
–Grey Water Purification using Control Moment Gyroscopes from NASA Kennedy, NASA Glenn and the ASRC Aerospace Corp., Greenbelt, Md.; Walt Turner, PM
–Indexing Media Filtration experiment from NASA Glenn, Aerfil LLC, Filtration Group, Inc., Joliet, Ill., and ASRC Aerospace; Gary Ruff, PM
–Autonomous Robotic Capture from NASA's Goddard Space Flight Center, Greenbelt, Md.; West Virginia University, Morgantown; the U.S. Naval Research Laboratory, Washington and Yasakawa America, Inc., Waukegan, Ill.; Thomas Evans, PM
–Validation of Atomization Mechanism and Droplet Transport for a Portable Fire Extinguisher from NASA Glenn, ADA Technologies, Inc., Littleton, Colo., and the Colorado School of Mines, Golden; Jim Butz, PM
–Cryocooler Vibrational Characterization from Ad Astra Rocket Co., Webster, Texas; Benjamin Longmier, PI
–Monitoring Radiation-Induced DNA Degradation from NASA Kennedy; Howard Levine, PI
–EHD-Pumped Two-Phase Loops experiment from the Air Force Research Laboratory and Kirtland Air Force Base, N.M.; Greg Busch, Sam Sinnamon and Andrew Williams, co-PIs
–Electric Field Effects on Pool Boiling Heat Transfer experiments from the University of Maryland and University of Pisa, Italy; Jungho Kim and Paolo DiMarco, co-PIs
NASA will continue to accept Flight Opportunities Program proposals until Dec. 31, 2014. NASA's Office of the Chief Technologist directs the Flight Opportunities Program, which is managed at NASA's Dryden Flight Research Center in Edwards, Calif. NASA's Ames Research Center at Moffett Field, Calif., manages the payload activities for the program. For more information on the Flight Opportunities program, visit: http://flightopportunities.nasa.gov