NASA Receives Bi-Partisan Support for Budget, Exploration Plan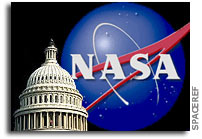 Your hard work – and the plan you've been working hard to execute – has clearly been acknowledged and recognized under the funding bill unveiled yesterday by Congress. This appropriations bill reaffirms support for the bi-partisan space exploration plan agreed to by the President and Congress. The bill keeps NASA's deep space exploration program (the Space Launch System and Orion) on track and provides funding to formulate the agency's Asteroid Redirect Mission, an important stepping stone on the path to Mars. The bill also provides funding for our plan to return American space launches to the U.S., ground-breaking scientific discoveries, game-changing technologies and cutting-edge research into cleaner and quieter airplanes. The $17.6 billion provided in this measure will continue to spur American innovation and keep the U.S. the world leader in space exploration.
The bill is also a recognition of — and vote of confidence in — our efforts to reduce costs and streamline our activities, which we will need to continue to be able to execute our challenging and exciting portfolio.
I want to thank the entire NASA workforce for your dedication to our mission throughout the challenges of recent years. You have kept us moving forward, and we continue to make extraordinary progress developing the new aviation and space technologies for tomorrow's missions and undertaking the breakthrough science that is transforming our understanding of Earth and the universe.
The message from our nation's leaders today is simple and straightforward: keep doing what you're doing to keep the United States the world leader in space.
Charlie B.
X