NASA Powers Up State-of-the-Art Space Launch System Software Avionics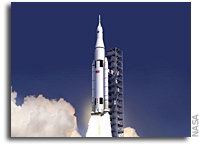 The modern avionics system that will guide NASA's Space Launch System (SLS), the most powerful rocket ever built, has seen the light.
The flight software and avionics for SLS were integrated and powered for testing Thursday at NASA's Marshall Space Flight Center in Huntsville, Ala., as part of a milestone known as first light.
The milestone enables early integration and testing of avionics and software to help NASA perfect the system and ensure the units communicate together as designed. Avionics tell the rocket where it should fly and how it should pivot its engines to stay on course.
"We continue to make good progress developing SLS," said Dan Dumbacher, deputy associate administrator for exploration systems development at NASA Headquarters in Washington. "The avionics are like the central nervous system for the launch vehicle. They're of critical importance and testing them early helps us build a more robust rocket."
The SLS avionics and the flight computer will be housed in the rocket's core stage. When completed, the core stage will be more than 200 feet tall and store cryogenic liquid hydrogen and liquid oxygen that will feed the rocket's RS-25 engines.
The first SLS flight test, targeted for 2017, will feature a configuration for a 70-metric-ton (77-ton) lift capacity and carry an uncrewed Orion spacecraft beyond low-Earth orbit to test the performance of the integrated system. As the SLS evolves, it will provide an unprecedented lift capability of 130 metric tons (143 tons) to enable missions even farther into our solar system to places such as to an asteroid and Mars.
The Boeing Company, prime contractor for the SLS core stage and its avionics, delivered the flight computers and supporting avionics hardware. NASA's Integrated Avionics Test Facilities team provided and installed the structure and simulation capability to model the environments the vehicle will experience during launch. With the avionics hardware units arranged in flight configuration on the structure and with the flight software, the facility will replicate what will actually fly the rocket.
For more information on SLS visit: