NASA Names Chief Technology Officer for IT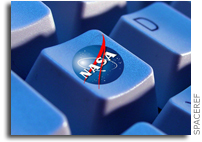 WASHINGTON — NASA Chief Information Officer Linda Cureton announced Chris C. Kemp as the first NASA Chief Technology Officer, or CTO, for Information Technology, a new position established to lead IT innovation at the space agency.
"We are lucky to already have Chris at NASA, and this move will leverage his creative talents and energies," Cureton said.
As CTO for IT at NASA, Kemp will be responsible for the agency's Enterprise Architecture division and for introducing new and emerging technologies into IT planning and implementation. Kemp will formulate and oversee a new CTO Council with participants from NASA's mission organizations and field centers. The council will foster creative ideas and nurture innovation within NASA's IT organization.
One of Kemp's primary focuses will be determining ways to make NASA's IT environment more energy efficient.
Beginning in 2007, Kemp served as chief information officer at NASA's Ames Research Center in Moffett Field, Calif. Before that Kemp was Ames' director of strategic business development and helped forge partnerships with Google and Microsoft. Prior to joining NASA in 2006, he helped create the online community Classmates.com, the web-based vacation rental platform Escapia, and the first online grocery shopping platform for Kroger.
In March 2010, Kemp received the "Federal 100" award for his efforts to improve the federal government's IT acquisition, development and management.
For information about NASA and agency programs, visit: http://www.nasa.gov/