NASA, Lockheed Martin Announce Exploration Design Challenge for Students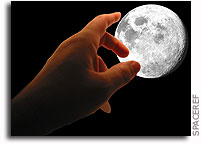 WASHINGTON — NASA and Lockheed Martin Corp. of Bethesda, Md., will involve students in the flight test of NASA's Orion spacecraft through an Exploration Design Challenge to be unveiled in Houston on Monday, March 11.
Two-time space shuttle astronaut Leland Melvin, now NASA's associate administrator for education, will announce details of the science, technology, engineering and mathematics (STEM) challenge at 11:30 a.m. EDT (10:30 a.m. CDT) in the Space Vehicle Mockup Facility at NASA's Johnson Space Center. NASA Administrator Charles Bolden and Marillyn Hewson, president and CEO of Lockheed Martin, will speak. Lockheed Martin is NASA's prime contractor for Orion, which is being built to take people farther than they have ever traveled into space.
The event also will be broadcast on NASA Television and the agency's website. Media representatives who wish to attend must register no later than 5 p.m. CST, Friday, March 8 with Brandi Dean at brandi.k.dean@nasa.gov.
After the Exploration Design Challenge kickoff, at 11:30 a.m. CDT, NASA will host a Google+ hangout with Melvin and fellow astronaut Rex Walheim, who will be inside a mockup of the Orion spacecraft discussing its capabilities and answering questions about the future of exploration. To join the Google+ hangout, visit: http://go.nasa.gov/12u0RwZ
The Exploration Design Challenge was developed under a Space Act Agreement between NASA and Lockheed Martin, with support from the National Institute of Aerospace in Hampton, Va.
For more information about NASA's education programs, visit: http://www.nasa.gov/education
For more information about Orion, visit: http://www.nasa.gov/orion