NASA Launches New Open Government Blog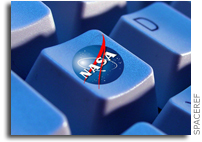 NASA has launched the new http://open.nasa.gov blog to highlight the agency's Open Government success stories. The site is part of the White House's Open Government Initiative, which requires federal agencies to create a new level of openness and accountability and provide public access to unclassified data.
The site is a collaborative blog for the open government community to highlight the ways that transparency, participation, and collaboration are being embraced throughout the agency.
"NASA is committed to experimenting with and embracing new participatory ways of collaboration," said Linda Cureton, the agency's chief information officer. "The launch of open.NASA is a new chapter in NASA's culture of openness and an exciting new way to engage citizens in our activities."
NASA released its Open Government Plan in April 2010 in response to a White House directive. The new open.NASA blog is complimentary to the official NASA Open Government website, which includes the Open Government Plan, a status report and associated projects. To learn more about NASA's Open Government Initiative, visit: http://www.nasa.gov/open