NASA Joins Web Consortium to Help Improve Universal Access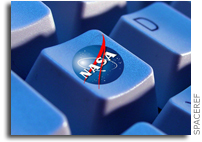 NASA announced Thursday it has joined the World Wide Web Consortium (W3C). The consortium is an international organization that develops protocols, standards and guidelines to ensure universal Web access.
"Standards will play a key role in making NASA's content more accessible on the Internet and in the implementation of our Open Government plan," said Chris Kemp, chief technology officer for Information Technology at NASA Headquarters in Washington. "Additionally, standards nurture technology innovation. We are especially interested in participating in those areas where NASA's ongoing technical requirements overlap with the W3C's standardization efforts."
W3C's staff works with member organizations and the public to enhance long-term growth for the Web. The organization has more than 350 members. It is run by the MIT Computer Science and Artificial Intelligence Laboratory in Cambridge, Mass., the European Research Consortium for Informatics and Mathematics in France, and Keio University in Japan.
"W3C is delighted to welcome NASA back as a member," said Jeff Jaffe, W3C chief executive officer. "The agency's participation in W3C activities such as eGovernment, Linked Open Data and Semantic Web technologies will bring great depth and breadth of experience to these communities and opportunities for leadership in emerging technologies."
For more information about W3C, visit: http://www.w3.org
For more information about NASA's Office of the Chief Information Officer, visit: http://www.nasa.gov/offices/ocio/home/