NASA Invites Public To Tweet Their Way Into Space Next Week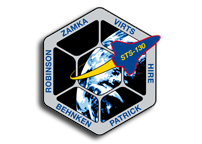 HOUSTON — The Twitterverse and universe will converge during space shuttle Endeavour's upcoming mission to the International Space Station. NASA is inviting the public to send questions for the astronauts via Twitter and have them answered live from space.
Astronaut Mike Massimino will be accepting questions for the crew from the public via his Twitter account until Thursday, Feb. 11. Massimino will be a shuttle Capcom, or spacecraft communicator, at NASA's Mission Control in Houston during Endeavour's flight, scheduled for launch Feb. 7.
At 2:24 a.m. CST on Feb. 11, Massimino will host an interactive event with the crew from his console in Mission Control. He will ask the astronauts as many submitted and live questions as practical during the 20-minute event. The shuttle will be docked to the station during the live question and answer session. The event with Endeavour's crew will be broadcast live on the Web and NASA Television.
The public is invited to start tweeting questions for Endeavour's crew today to Massimino's Twitter account, @astro_Mike, or add the hashtag #askastro to their tweets.
Endeavour's 13-day STS-130 mission will include three spacewalks and the delivery of the Tranquility node, the final module of the U.S. portion of the station. Tranquility will provide additional room for crew members and many of the space station's life support and environmental control systems.
Attached to Tranquility is a cupola, which houses a robotic control station and has seven windows. The windows will provide a panoramic view of Earth, celestial objects and visiting spacecraft. After the node and cupola are added, the orbiting laboratory will be approximately 90 percent complete.
The time and day of the Twitter session are subject to change due to mission priorities. Updates to the NASA TV event schedule are available online at: http://www.nasa.gov/shuttletv
For additional NASA TV streaming video, scheduling and downlink information, visit: http://www.nasa.gov/ntv
For information about Endeavour and the STS-130 mission, visit: http://www.nasa.gov/shuttle