NASA Invites Media Inside World's Largest Vacuum Chamber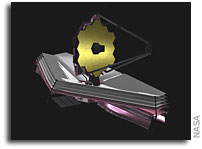 HOUSTON — The world's largest thermal-vacuum chamber will be open to news media at NASA's Johnson Space Center in Houston on Thursday, April 4.
Upgrades are being made to the facility to prepare it for testing the agency's James Webb Space Telescope. Scientists plan to use the Webb telescope to see further back into history than ever before.
Attendees will be able to learn about the facility upgrades and the role they will have in preparing the Webb telescope. Media interested in attending should email Brandi Dean at brandi.k.dean@nasa.gov. International media must apply for credentials by 5 p.m., March 27. U.S. reporters should respond by 5 p.m., April 3.
Webb telescope scientists and Johnson chamber technicians will be available for interviews during the media opportunity. The site is designated a clean room, so all media entering the chamber will be provided with specialized clothing.
Johnson's 400,000 cubic foot vacuum chamber, Chamber A, was built in 1965 to conduct thermal-vacuum testing of the Apollo Command Module and Service Module. In addition to the Apollo modules, Chamber A has been used in component tests for Apollo-Soyuz, Skylab, space shuttle, International Space Station, Department of Defense communication antennas and various other large-scale satellite systems.
Since 2007, the chamber has been significantly modified to support testing of the Webb telescope the agency's successor to the Hubble Space Telescope. Scheduled to launch in 2018, it will fly in deep space orbit more than a million miles from Earth. To ensure it will function in the extreme environment of space, Chamber A will be equipped with instruments to measure and evaluate the shape and focus of the mirrors.
As the most powerful space telescope ever built, the Webb telescope will observe the most distant objects in the universe, provide images of the first galaxies ever formed, and see unexplored planets around distant stars. The telescope is a joint project of NASA, the European Space Agency and the Canadian Space Agency.
For more information on telescope and to follow the mission, visit: http://www.jwst.nasa.gov/