NASA Hubble Science Update Scheduled for 1 p.m. EDT May 31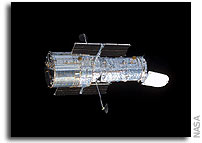 NASA will host a Science Update Thursday, May 31, at 1:00 p.m. EDT to discuss new Hubble Space Telescope observations that allow astronomers to predict with certainty the next major cosmic event to affect our entire galaxy, Sun, and solar system.
The news conference will be held in NASA Headquarters' James E. Webb Auditorium at 300 E St. SW in Washington and be shown live on NASA Television and on the agency's website.
It has been known for a long time that the Andromeda galaxy is approaching us. Because of uncertainties in Andromeda's motion, it has not been possible to determine whether the Milky Way will have a head-on collision or glancing blow with the neighboring galaxy billions of years in the future. Hubble's precise observations will settle this question.
Briefing participants:
— Roeland van der Marel, astronomer, Space Telescope Science Institute, Baltimore
— Sangmo Tony Sohn, astronomer, Space Telescope Science Institute, Baltimore
— Rosemary Wyse, professor, Physics and Astronomy, Johns Hopkins University, Baltimore
— John Grunsfeld, Associate Administrator, Science Mission Directorate, NASA Headquarters, Washington
Media can attend the event or ask questions by phone. For dial-in information, reporters must send an email listing their name, phone number and media affiliation to [email protected] by noon EDT on May 31.
Contacts:
J.D. Harrington
NASA Headquarters, Washington, D.C.
+1 202-358-5241
[email protected]
Ray Villard
Space Telescope Science Institute, Baltimore
+1 410-338-4514
[email protected]
Following the news conference, the panelists also will host a web chat at 3 p.m. to answer questions from the general public: http://www.nasa.gov/connect/chat/M31_collision_chat.html
NASA TV downlink information, schedules and links to streaming video: http://www.nasa.gov/ntv
More information about NASA's Hubble Program: http://www.nasa.gov/hubble