NASA Hosts News Briefing About Tracking Space Weather Events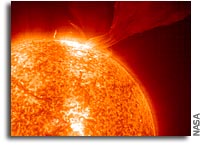 WASHINGTON — NASA will host a news briefing at 2 p.m. EDT, Thursday, Aug. 18, to discuss new details about the structure of solar storms and the impact they have on Earth. The new information comes from NASA's Solar Terrestrial Relations Observatory, or STEREO, spacecraft and other NASA probes.
The briefing will take place in NASA Headquarters' James E. Webb Auditorium, located at 300 E St. SW in Washington, and will air live on NASA Television and the agency's website.
The briefing panelists are:
— Madhulika Guhathakurta, STEREO program scientist, NASA Headquarters
— Craig DeForest, staff scientist, Southwest Research Institute, Boulder, Colo.
— David Webb, research physicist, Institute for Scientific Research, Boston College
— Alysha Reinard, research scientist, National Oceanic and Atmospheric Administration and the University of Colorado, Boulder
Reporters unable to attend may ask questions from participating NASA centers or by telephone. To participate by phone, reporters must contact Steve Cole at 202-358-0918 or stephen.e.cole@nasa.gov by 11 a.m. on Thursday.
STEREO is part of NASA's Solar Terrestrial Probes Program in the agency's Science Mission Directorate in Washington. The program seeks to understand the fundamental physical processes of the space environment from the sun to Earth and other planets.
For more information about NASA's STEREO mission, visit: http://www.nasa.gov/stereo
For NASA TV streaming video, downlink and scheduling information, visit: http://www.nasa.gov/ntv