NASA Hosts First Multi-Center Social Media Event for Mars Landing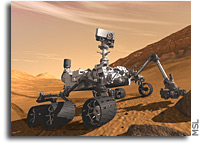 WASHINGTON — NASA is inviting its social media followers to the first-ever multi-center NASA Social on Aug. 3 to preview the landing of the Mars Science Laboratory's Curiosity rover on Aug. 6 EDT (Aug. 5 PDT). NASA Socials are in-person meetings with people who engage with the agency through Twitter, Facebook, Google+ and other social networks.
Events will be held simultaneously at six NASA field centers, including Ames Research Center in Moffett Field, Calif.; Glenn Research Center in Cleveland; Goddard Space Flight Center in Greenbelt, Md.; Johnson Space Center in Houston; and, Langley Research Center in Hampton, Va. Each center will be connected via a multi-center NASA Television simulcast with NASA's Jet Propulsion Laboratory (JPL) in Pasadena, Calif., during its NASA Social, which was previously announced. JPL, a division of the California Institute of Technology, Pasadena, manages the Mars Science Laboratory (MSL) mission for NASA.
Participants will learn about the Mars Science Laboratory mission and their respective NASA field center. They are encouraged to share their experience with others through their favorite social networks. Along with discussing MSL and Mars, participants will get a unique behind-the-scenes look at the center and the diverse work of the agency through tours and presentations with scientists, engineers and managers. The events also will provide guests the opportunity to interact with fellow social media users, space enthusiasts and members of NASA's social media team.
Registration for the five new NASA Socials opens at noon EDT, Friday, June 29, and closes at noon Tuesday, July 3. NASA randomly will select participants from online registrations. People may register for NASA Socials to be held at multiple locations, but selectees will be chosen for one event only. Each field center's social and number of guests allowed varies. For more information on each center's activities and rules pertaining to NASA Social registration, visit: http://www.nasa.gov/social
It is anticipated that Curiosity will land at Mars' Gale crater at approximately 1:31 a.m. EDT Aug. 6 (10:31 p.m. PDT Aug. 5). During the two-year prime mission, the rover will investigate whether the selected area of Mars offered environmental conditions favorable for microbial life or if evidence of it existed. For more information on the Mars Science Laboratory/Curiosity mission, visit: http://www.nasa.gov/msl
The public can follow the mission on Facebook and Twitter at: http://www.facebook.com/marscuriosity http://www.twitter.com/marscuriosity
For information about connecting and collaborating with NASA, visit: http://www.nasa.gov/connect