NASA Holds Test to Verify Endeavour Tank Repairs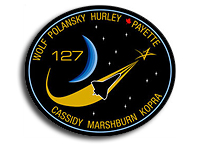 CAPE CANAVERAL, Fla. — NASA will conduct a tanking test at the agency's Kennedy Space Center in Florida on Wednesday, July 1, to ensure repairs to space shuttle Endeavour's external fuel tank were successful.
The test will be shown live on NASA Television beginning at 7 a.m. EDT. It will be followed by a news conference at approximately 1 p.m. Briefing participants will be shuttle program Launch Integration Manager Mike Moses and STS-127 Launch Director Pete Nickolenko.
During the test, the external tank will be filled with liquid hydrogen and liquid oxygen, just as it is before launch. A hydrogen gas leak at the Ground Umbilical Carrier Plate, or GUCP, postponed Endeavour's launch attempts June 13 and 17. The GUCP is attached to the venting system used to carry excess hydrogen safely away from the launch pad.
Engineers determined the most likely cause of the leak is a slight misalignment in the External Tank Carrier Assembly. The assembly was fastened to the tank during manufacturing. The misalignment likely is putting uneven pressure on a Teflon seal, causing a small leak when extremely low temperatures occur during fueling.
Technicians replaced the old seal with a two-piece seal and added small washers to counter any movement of the external tank carrier assembly as the tank is fueled.
Endeavour's launch on the STS-127 mission is targeted for 7:39 p.m. on Saturday, July 11. The 16-day mission to the International Space Station will feature five spacewalks and complete construction of the Japan Aerospace Exploration Agency's Kibo laboratory. Astronauts will attach a platform to the outside of the Japanese module that will allow experiments to be exposed to space.
For the latest information about the STS-127 mission and its crew, visit: http://www.nasa.gov/shuttle
STS-127 mission Commander Mark Polansky's Twitter account can be followed at: http://www.twitter.com/Astro_127
For information about the International Space Station, visit: http://www.nasa.gov/station
For information about NASA TV streaming video, downlink and schedule information, visit: http://www.nasa.gov/ntv