NASA Glenn Joins in Venus Transit Activities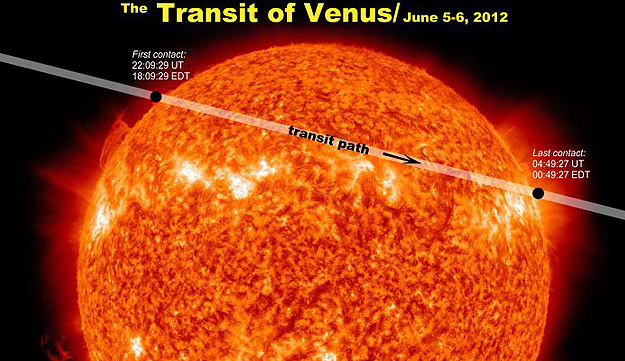 CLEVELAND – On June 5, NASA's Glenn Research Center will participate in two events highlighting the celestial phenomenon of the planet Venus crossing over the face of the sun. This once-in-a-lifetime astronomical event is called the "Transit of Venus."
Dr. Steven Williams, Education and Public Outreach Lead in NASA's Planetary Sciences Division in Washington D.C., will give a talk about the significance of the Venus Transit and how scientific knowledge is gained from such rare events. The talk will begin at 2 p.m. at the Great Lakes Science Center. Dr. Williams will speak about "why a dot against the sun is a big deal" and how studying external planets can tell us more about Earth.
After Williams' talk, Glenn's Dr. Rodger Dyson will also be available to answer questions. Dyson is leading work to develop the Glenn Extreme Environment Rig (GEER) that will simulate the incredibly hot and dense Venusian atmosphere to test hardware that may someday be used on Venus and other planets with harsh environments.
The presentation is free to the public with paid admission to the Science Center. No reservations are required.
NASA will also have a presence at Edgewater State Park on June 5 from 5 p.m. until sunset. Williams and researchers from Glenn will be available to talk with members of the public who attend the event.
The Transit of Venus is estimated to be viewable at Edgewater State Park starting at 6 p.m., weather permitting. This event is a free, family-friendly opportunity to view the Transit of Venus and learn more about our solar system. It is being coordinated by Cleveland State University, Baldwin-Wallace College, the Cuyahoga Astronomical Association and the Cleveland Astronomical Society.
Professors and experienced astronomers will be on hand to share their knowledge and coordinate activities. Special "solar viewers" will be provided, and large astronomical telescopes will be available to view Saturn, Mars, Mercury, the moon and the International Space Station after sunset.
News media interested in attending either of these events should contact Katherine Martin or the Media Relations Office at 216-433-2901 by noon on June 5.
For information about the Venus Transit, visit: http://venustransit.nasa.gov
For information about Glenn, visit: http://www.nasa.gov/glenn