NASA Glenn hosts Mars Landing Countdown Event on Aug. 5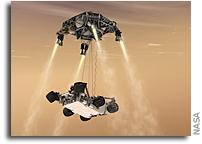 CLEVELAND — NASA's Glenn Research Center invites the public to Wade Oval in University Circle on Sunday, Aug. 5 from 1 to 6 p.m. to enjoy a full afternoon of family fun and learn more about the upcoming landing of NASA's Curiosity rover.
The event, themed "Spark Your Curiosity!" will generate excitement about NASA's bold mission of returning to Mars. The car-sized Curiosity rover will land on the Martian surface at approximately 1:31 a.m. EDT on Aug. 6 (10:31 p.m. PDT on Aug. 5). The landing will mark the beginning of a two-year mission to investigate whether one of the most intriguing places on Mars ever was, or is, habitable to microbial life.
Visitors will see and learn more about Mars and robotics. Watch a local student-built robot demonstration and Cleveland's own Rock N Robots perform lively dance routines. There will be plenty of hands-on activities including demonstrations about the solar system, and an opportunity to build your own Hubble telescope, foam rocket and edible Mars Curiosity rover. Also available will be the popular "Picture Yourself in Space" photo booth, where children and adults can receive a free souvenir photo taken as an astronaut on Mars. Glenn scientists and engineers will also be on hand to talk with the guests.
In addition, NASA astronaut and retired U.S. Air Force Colonel Gregory H. "Box"Johnson will be on hand and sign autographs at the event. Johnson piloted space shuttle Endeavour on its STS-123 mission in 2008 and again on the STS-134 mission, Endeavour's final flight in 2011.
Admission for this fun-filled event is FREE. Food and beverages will be available for sale.
In the event of inclement weather, all the activities will move into the Cleveland Museum of Natural History located at 1 Wade Oval Drive in University Circle.
Media wishing to cover the event should contact Lori Rachul at 216-433-8806 or Katherine Martin at 216-433-2406.
For more information about the Mars Curiosity landing, visit: http://www.nasa.gov/mars
For more information about Glenn, visit: http://www.nasa.gov/glenn
For a photo and biographical information on Johnson, visit: http://www.jsc.nasa.gov/Bios/htmlbios/johnson-gh.html