NASA Discusses Curiosity Radiation Findings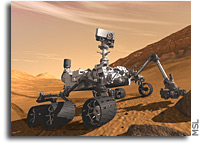 NASA will host a media teleconference at 1 p.m. EST Monday, Dec. 9, to discuss new findings from the Mars Science Laboratory (MSL) Radiation Assessment Detector (RAD) aboard the rover Curiosity.
Just prior to the teleconference, the findings will be presented at the American Geophysical Union Fall Meeting in San Francisco. The journal Science has embargoed details until noon Dec. 9.
The briefing participants are:
— Jason Crusan, Advanced Exploration Systems Division director, NASA Headquarters, Washington
— Dan Dumbacher, deputy associate administrator for exploration systems development, NASA Headquarters, Washington
— Donald M. Hassler, RAD principal investigator and program director, Southwest Research Institute (SwRI), San Antonio
— Rich Williams, chief health and medical officer, NASA Headquarters, Washington
For dial-in information, media representatives should e-mail their name, affiliation and telephone number to Rachel Kraft at rachel.h.kraft@nasa.gov by 11 a.m. Dec. 9.
SwRI and Christian Albrechts University in Kiel, Germany, built RAD with funding from NASA's Human Exploration and Operations Mission Directorate and Germany's national aerospace research center, Deutsches Zentrum fuer Luft- und Raumfahrt. NASA's Jet Propulsion Laboratory, a division of the California Institute of Technology in Pasadena, Calif., manages the MSL Project. NASA's Science Mission Directorate in Washington manages the Mars Exploration Program.
Audio of the teleconference will be streamed live on NASA's website at:
For more information about MSL, visit: