NASA Debuts 50th Anniversary Art Book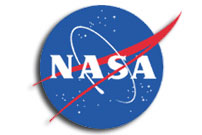 To celebrate NASA's 50th anniversary in October, the agency is releasing the book "NASA/ART – 50 Years of Exploration," a historic collection of almost a half-century of space-inspired artwork.
In 1962, four years after NASA was founded, Administrator James E. Webb recognized space exploration would make a profound cultural impact, in addition to advancing science and technology. He established the NASA Art Program to commission pieces from prominent artists that would illustrate and interpret the space agency's missions.
Since that time, the art program has enjoyed the participation of such luminaries as Robert Rauschenberg, Norman Rockwell, James Wyeth, Nam June Paik, Patti LaBelle, William Wegman, Mike and Doug Starn, and Annie Leibovitz.
"Through the NASA Art Program, artists have been given an inside glimpse into the missions and programs which make up the space agency," said Bert Ulrich, the program's curator at NASA headquarters in Washington. "Through their imaginations, artists have shared an entirely new interpretation of the NASA story with the public."
In "NASA/ART – 50 Years of Exploration," co-authors James Dean and Ulrich present 150 full color illustrations with essays by astronaut Michael Collins, curator Tom D. Crouch and novelist Ray Bradbury. The book, published by Harry N. Abrams, Inc., New York, will be available in October. It is a companion to the Smithsonian traveling art exhibition drawn from the collections of NASA and the National Air and Space Museum, which features 73 works by some of America's leading artists.
For more information about the book, "NASA/ART – 50 Years of Exploration," visit:
http://www.nasa.gov/externalflash/NASAart_book/
Exhibition descriptions and tour schedules are available at:
http://www.sites.si.edu/exhibitions/exhibits/nasa_art/main.htm
For more information about NASA's 50th Anniversary, visit: