NASA Changes 2008 Shuttle Target Launch Dates, Schedules TCDT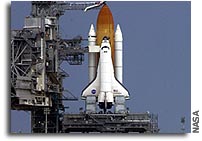 HOUSTON – NASA has adjusted the target launch dates for the two remaining space shuttle missions in 2008. Shuttle Atlantis' STS-125 mission to the Hubble Space Telescope is targeted for Oct. 10, while Endeavour's STS-126 supply mission to the International Space Station has moved to Nov. 12.
Shuttle managers made the decision after Atlantis was rolled to the launch pad and the effects of Tropical Storm Hanna were beyond NASA's Kennedy Space Center in Florida. That allowed managers to more accurately assess the impacts of recent tropical systems on the launch schedule.
Atlantis began rolling from Kennedy's Vehicle Assembly Building to Launch Pad 39A Thursday at 9:19 a.m. EDT. The shuttle arrived at the pad at approximately 2 p.m. and was secured at 3:52 p.m. Atlantis now is targeted to launch at approximately 12:33 a.m. EDT, Friday, Oct. 10. NASA Television coverage of launch will begin at 7:30 p.m. EDT on Thursday, Oct. 9. The 11-day flight will include five spacewalks to repair and upgrade the Hubble telescope. Atlantis is scheduled to land at approximately 10:21 p.m., Oct. 20.
Scott Altman will command STS-125, with Gregory C. Johnson serving as pilot. Mission specialists include veteran spacewalkers John Grunsfeld and Mike Massimino, and first-time space fliers Andrew Feustel, Michael Good and Megan McArthur.
Endeavour will close 2008 with a 15-day mission to deliver supplies and cargo to the space station. During the STS-126 mission, NASA astronaut Sandra Magnus will replace Greg Chamitoff as an Expedition 18 crew member on the station. Chamitoff will return to Earth after five months in space. The mission's targeted launch time is 8:43 p.m. EST, Nov. 12. Landing will occur at approximately 2:45 p.m., Nov. 27.
Chris Ferguson will command STS-126, with Eric Boe serving as pilot. Mission specialists will be Steve Bowen, Shane Kimbrough, Heidemarie Stefanyshyn-Piper, Donald Pettit, Magnus and Chamitoff.
The formal launch dates for space shuttle flights are determined during the Flight Readiness Review, which is conducted about two weeks before launch. The STS-125 review is scheduled for Sept. 22-23. The review for STS-126 is scheduled for Oct. 30.
An STS-125 launch dress rehearsal, known as the terminal countdown demonstration test, or TCDT, is scheduled to take place at Kennedy Sept. 22-24. The test provides each shuttle crew with an opportunity to participate in simulated countdown activities, including equipment familiarization and emergency training.
The following media events are associated with the test. All times are Eastern.
– Sept. 21 – STS-125 crew arrival: The astronauts will arrive at 7 p.m. at the Shuttle Landing Facility and make a brief statement. The arrival will be not be broadcast live on NASA Television, but will replay as a NASA TV Video File.
– Sept. 23 – STS-125 crew availability: The crew will take news media questions at Launch Pad 39A at 8:30 a.m. The event will be carried live on NASA TV.
– Sept. 24 – STS-125 crew walkout photo opportunity: The astronauts will depart from the Operations and Checkout Building at 7:45 a.m. wearing their launch and entry suits in preparation for the countdown demonstration test at the launch pad. The walkout will not be broadcast live, but will be included in the NASA TV Video File.
Dates and times of events are subject to change. Schedule updates are available at 321-867-2525.
Foreign media must apply for accreditation online by 4 p.m., Friday, Sept. 5. U.S. media without permanent Kennedy Space Center credentials must apply for accreditation online by 4 p.m., Tuesday, Sept. 16, at:
To attend crew arrival, reporters must pick up badges before 4 p.m., Friday, Sept. 19, at the Kennedy badging facility on State Road 405. For information about covering these events, including proper attire and meeting locations, credentialed media should visit:
http://www.nasa.gov/centers/kennedy/news/media.html
Video B-roll of the terminal countdown demonstration test will be available on the NASA TV Video File. For NASA TV downlink information, schedules and links to streaming video, visit:
For more information about the International Space Station, visit:
For more about the two remaining shuttle missions of 2008, visit: