NASA Chandra Research: New Findings About Dark Energy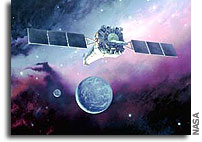 A powerful and independent method was used to probe dark
energy using NASA's Chandra X-ray Observatory. The results on
cosmic acceleration provide clues about the nature of dark
energy and the fate of the universe.
Team leaders will present findings at a Space Science Update
(SSU) at 1 p.m. EDT, May 18, 2004. It is in the Webb
Auditorium, NASA Headquarters, 300 E St. SW, Washington.
Panelists:
Dr. Steve Allen, astrophysicist, Institute of Astronomy, Cambridge, U.K.
Dr. Andy Fabian, professor, Institute of Astronomy, Cambridge, U.K.
Dr. Kim Weaver, astrophysicist, Goddard Space Flight Center, Greenbelt, Md.
Dr. Michael Turner, assistant director for mathematical and physics sciences, National Science Foundation, Arlington, Va.
Dr. Paul Hertz, Senior Scientist for Astronomy and Physics, Office of Space Science, NASA Headquarters, Washington, Panel Moderator.
NASA TV will carry the SSU live, with two-way question-and-
answer capability for reporters at participating agency
centers, available on AMC-9, transponder 9C, C-Band, located
at 85 degrees west longitude. The frequency is 3880.0 MHz.
Polarization is vertical, and audio is monaural at 6.80 MHz.
To listen to the SSU, call: 321/867-1220/1240/1260. The
update will be webcast live at:
http://www.nasa.gov