NASA Calls on Private Sector to Help Make Exploration Affordable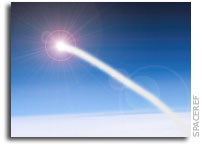 Senior NASA officials chose the Space Frontier Foundation's "Return to the Moon VI: Reality Check" to articulate the importance of America's emerging commercial space industry to achieving the new U.S. Vision for Space Exploration.
"We've run the numbers, the budget numbers, and we can't afford this plan — we simply can't — if we follow the business-as-usual approach," said Christopher Shank, Special Assistant to the NASA Administrator, the keynote speaker at the conference.
"The NASA budget is only so much per year. It is just a matter of what it is you want to do with that money. So we, NASA, need to be smarter customers. If we assume CEV was the only vehicle, in a business-as-usual conservative costing approach, that if we didn't take a firm fixed-price approach towards our acquisition practices on how we're going to provide ISS crew and cargo, we could not afford to move on to the Moon," said Shank.
Foundation leaders praised NASA for this and other recent steps demonstrating its desire to partner with entrepreneurial space firms whose creativity offers great promise to drive down the costs of space access, exploration, development, and settlement.
"Going to the Moon to stay and eventually on to Mars, is a vision that everyone in this community can get behind," said Jeff Feige, the conference chairman. "But NASA needs the help of the entrepreneurial space community to make that happen. NASA's interest in partnering with the private sector is an opportunity that none of us can afford to miss."
Another highlight of the conference was the announcement of a new challenge for the NASA Centennial Challenges program which offers cash prizes for breakthroughs in space technology. "We're trying to design this so that there's a range of activities that industry can pick and choose from," Sponberg Program Manager for the NASA Centennial Challenges program. NASA will offer a $250,000 prize for the first person or organization to manufacture a new glove for space suits with an increased range of motion. Sponberg also outlined a new series of prizes for space transportation.
Panel discussions included discussions on cost-effective ways to get to the moon, legal & regulatory policy, property rights, and the numerous ways business can make money on the moon. The conference included members of the media, government planners, industry leaders and entrepreneurs. Companies such as t/Space, Boeing, Constellation Services International, Kistler Aerospace, XCOR Aerospace, Cisco Systems, and Rocketplane Ltd, participated in the program and/or exhibited products geared towards space exploration and lunar development.
The Space Frontier Foundation is an organization composed of space activists, scientists and engineers, media and political professionals, entrepreneurs, and citizens from all backgrounds and all nations dedicated to the large-scale permanent settlement of space.