NASA Back to School Event Postponed Due to Weather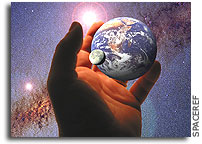 HAMPTON, Va. – Due to the uncertainty of severe weather and conditions associated with Hurricane Earl, NASA Langley Research Center's Summer of Innovation Back to School event scheduled for Saturday, Sept. 4, at Williams Farm Park in Virginia Beach has been postponed and will be rescheduled in the near future.
The event, called "Back to School PI Day: Showcasing STEM – Tools for the Future," was sponsored by NASA Langley and award-winning recording artist Pharrell Williams' charitable organization From One Hand to Another.
The event was meant to highlight the accomplishments of 1,500 students from Hampton Roads who participated in NASA Langley's inaugural Summer of Innovation (SoI) camps this year where they focused on STEM activities. Summer of Innovation is a key part of the President's Educate to Innovate campaign, which was launched this summer to help keep middle school students engaged during the school break.
While organizers were excited and anxious to celebrate the students' accomplishments in the SoI camps that Langley held this summer, the safety of all participants was paramount and drove the decision to postpone the event.
For more information on research at NASA Summer of Innovation, visit: http://www.nasa.gov/soi