NASA Awards Contract for Kepler Planning and Mission Support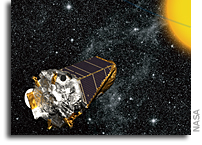 MOFFETT FIELD, Calif. – NASA Ames Research Center today announced it has selected Ball Aerospace & Technologies Corp., Boulder, Colo., to receive the Kepler mission "Phase E," or on-orbit operations contract, valued at $11,590,961. This is a cost plus fixed fee contract with a three and a half-year period of performance.
Under the terms of the contract, the company will provide support to the Kepler Flight Planning Center and Mission Operations Center and be responsible for returning science data to the ground for analysis; operating the Kepler mission's flight system, monitoring its health and status and providing technical support. The company will also implement the plans and procedures developed during the design, fabrication, assembly, test, check-out, delivery, test, launch and commissioning of the Kepler Photometer.
The work will be performed at the Ball Aerospace & Technologies Corp., facility in Boulder and at the University of Colorado Laboratory for Atmospheric and Space Physics, Boulder.
Kepler is a NASA Discovery mission. Ames is responsible for the ground system development, mission operations and science data analysis. The Jet Propulsion Laboratory, Pasadena, Calif., manages the Kepler mission development. Ball Aerospace & Technologies Corp., is responsible for developing the Kepler flight system and supporting mission operations.
For more information about the Kepler mission, visit:
For more information about NASA's Ames Research Center, visit: