NASA Awards Contract For JPSS-1 Spacecraft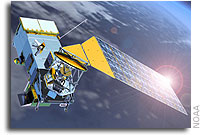 WASHINGTON — NASA on behalf of the National Oceanic and Atmospheric Administration has awarded a sole source contract for the Joint Polar Satellite System (JPSS-1) spacecraft to Ball Aerospace & Technologies Corp. in Boulder, Colo. This is a fixed price contract of $248 million with a performance period through Feb. 1, 2015.
Under this contract Ball will design, build and test the spacecraft; integrate government-furnished instruments; integrate the satellite with the launch vehicle; and support launch operations and on-orbit checkout. The spacecraft is a clone of the NPOESS Preparatory Project. JPSS-1 is expected to be ready for launch in 2014.
JPSS is the restructured civilian portion of the National Polar-orbiting Operational Environmental Satellite System (NPOESS) that will make afternoon observations as it orbits Earth. The system includes the satellites and sensors supporting civil weather and climate measurements and a shared ground infrastructure with the Department of Defense weather satellite system.
NOAA is responsible for the JPSS program. NASA is the program's procurement agent, and the agency's Goddard Space Flight Center in Greenbelt, Md., is the lead for acquisition. Data and imagery obtained from JPSS will increase the timeliness, accuracy and cost-effectiveness of public warnings and forecasts of climate and weather events, reducing the potential loss of human life and property.
For more information about NASA and agency programs, visit: http://www.nasa.gov