NASA Awards Chabot Space & Science Center $412,000 Grant For Space Weather Exhibition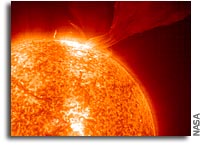 Chabot Space & Science Center has been awarded a $412,000 grant from NASA to create an innovative solar astronomy exhibition showcasing stunning images of the Sun, examining "space weather" created by solar activity and its influences on the Earth. The exhibition is scheduled to open at Chabot Space & Science Center in the fall of 2013.
The Sun not only dominates the weather on the Earth, it also drives weather in space, above and around our planet. NASA missions, such as the Solar Dynamic Observatory (SDO), are studying the Sun and are revealing the dynamic nature of our nearby star and its variability and connection to the Earth. The solar wind, a continuous stream of plasma from the Sun, in addition to flares, coronal mass ejections, and magnetic storms, influence the entire solar system and can impact global communications systems and orbiting spacecraft.
The centerpiece of the exhibition will be compelling high resolution imagery of the Sun from NASA's SDO mission, provided to Chabot by Lockheed Martin Solar and Astrophysics Laboratory. The mesmerizing visualizations of eruptions, flares, prominences, and coronal mass ejections are all the result of colossal magnetic disturbances taking place right next to our planet. Interactive stations in the exhibition will illustrate the outcome of solar storms, displaying colorful aurora, and forecasting geomagnetic storm warnings.
A large, interactive, electric plasma globe will allow visitors to touch and manipulate the plasma strings within it, suggestive of shapes and motions seen in time-lapse movies of the Sun's atmospheric plasma and magnetic fields. The exhibition features a pair of electromagnets which can be switched on demonstrating the loops and arcs surrounding the Sun's magnetic active polar regions. Visitors can also manipulate infrared cameras, revealing how scientists study non-visible light waves in space.
Chabot Space & Science Center is uniquely qualified to create and deliver this extraordinary solar astronomy learning opportunity as a teaching center for science and space literacy with a proud 128-year legacy of serving Bay Area communities through exhibits, school field trips, science camps, community outreach, and giant, historic telescopes. For more information about Chabot and to see a full version of the press release, visit ChabotSpace.org.